We got a late start this morning. Everyone slept in.

Patti went to get the croissants this morning while the rest of us lazed around. Lori's taxi was to pick her up at 11:30, so we ate our breakfast, and hung around with Lori waiting for the taxi to arrive.
After we said our goodbyes and saw Lori off to the train station, we had to decide what to do. No one had much energy because of the day before.... However, there was still some final shopping to do! There was a store called Hervé Chapelier that Patti's friend Patty had told her about which sells tres chic colorful nylon bags (similar to the nylon Longchamp bags). It was in the same area as we'd been in before, so we knew just where to go.
On our way there, we passed Max's. Of course we had to stop in to say hi.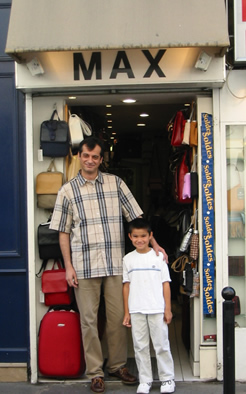 We continued on. After we reached the Rue du Four, we took a different route for the shopping, past St Sulpice, a church famous for its organ and organ concerts. We passed quite a few stores that we wanted to go back to. There is no end to the shopping possibilities in Paris. But we forged on, keeping our mission in mind.
We found the store easily, and spent quite a while picking out the perfect bag(s) both for gifts and for ourselves. We were in there long enough that Max, although he had a place to sit, was completely bored.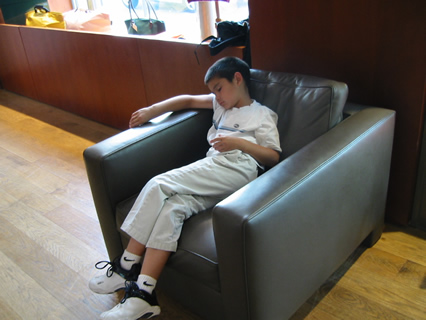 By this time, the kids were hungry and tired. We retraced our steps and found a nice Italian restaurant to eat in. Here they only spoke Italian, which was fine with me. We had a nice lunch, after which we walked the kids back home, where we hung out for a little bit.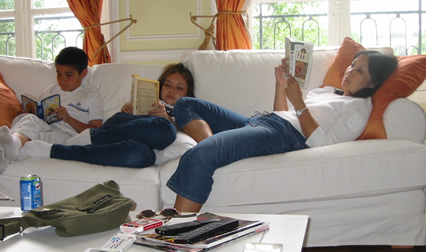 The kids were tired, so they decided to stay home and read. Patti and I decided there was more shopping to do!!!
On our way back to St. Germaine, we ran into a huge crowd of people. We figured it must have been about the World Cup, until we saw a vehicle with pink triangles. It turned out that today was the day of the Parisian Gay Pride parade! The place was just packed, and the streets were blocked off. We hadn't run into it earlier, because it started at 2 PM.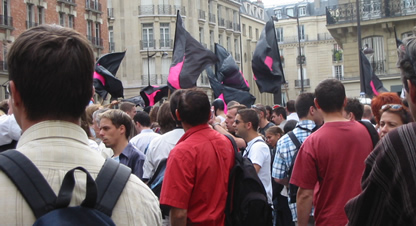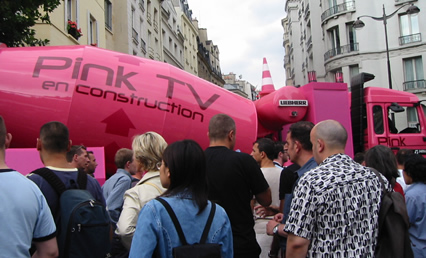 We plowed through the crowds, making our way across the street during an opening in the parade. We walked back to some of the stores we'd passed by. I had a few gifts I needed to buy, so I left Patti at a store where she was making a purchase, and ran my errands.
Returning to our place we had to go through the parade again. It lasted until the early evening. The mood was festive, and everyone was having a good time.
Once I got back, I took Max to some bookstores, where I got him and Lauren some Tintin and Asterix books. I figure you can't be a kid in France and not read those, even if you're reading them in English.
At Shakespeare & Co, an English-language bookshop that sells used books, we found a very odd thing amidst the books. It's a little hard to see, but there's a cat slumbering within a glass bookshelf that divides two of the rooms.

By the time Max and I returned, Patti was back in the apartment, and it was time to go out for dinner. Everyone was pretty hungry and tired and a little bit cranky. I think everyone was looking forward to returning home.
We originally had planned to eat at the Samartaine's 9th-floor restaurant, which is just across the river from us. It offers spectacular views. However, the fare is more traditional French cooking, and none of us were in the mood for that.
Many people in Paris forego dinner at a restaurant in favor of dinner at the park. Sometimes they forget to feed the dog though.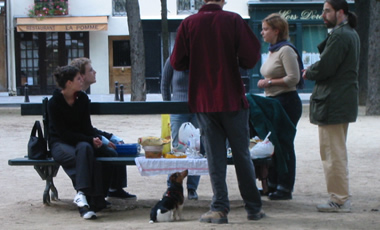 We walked back along Rue Dauphine and the Rue du Buci, and finally settled on another Italian restaurant on Rue du Buci, called Mezza Luna. It was quite good. Not that I'm prejudiced, but it's difficult to go wrong eating Italian. (Although, I do have to say, almost all the meals we had were really good... I think I'm coming around to enjoying French food a little more than I used to.)
After dinner, we came home and called it a day. Tomorrow we'll pack and go explore the island.