Today we decided just to hang around the house all day and relax. Steven had to go to work briefly at 3, and then to a diplomatic dinner in the evening, so we decided to do family-home-daytime.
We woke up in the morning, and Patti, Lori, Steven and I went off to the store. Lauren and Max were still fast asleep so we left them a note telling them where we were before leaving.
We went to this unbelievably large hypermarche... a two-story combination of Walmart and the biggest safeway you've ever seen. (Really big!) It's hard to capture it in pictures, but here are a couple of representative ones.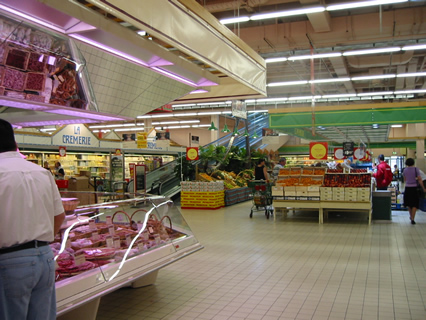 After stocking up on stuff, we returned to Steven and Lori's and basically holed up for the day. We played cards, slept, worked on web pages, and other stuff.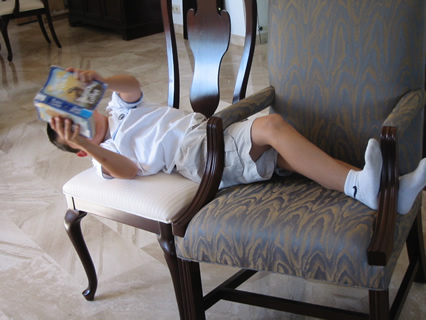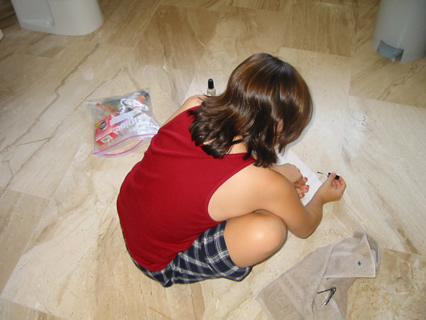 Steven had to go to an embassy function, so we didn't have transportation for the day. At around 7, the five of us walked down to the local cafe and had a fairly quick meal (by European standards). I'm sure Steven and Lori will be frequenting the place and meeting all their neighbors there in the future.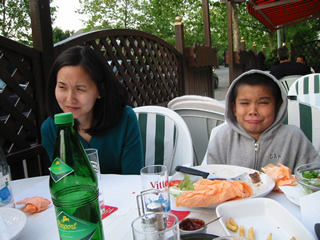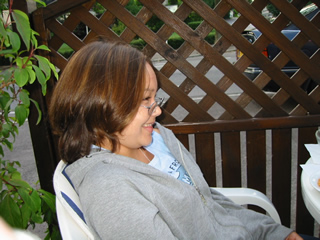 After we returned from dinner, Max started bemoaning that he'd left his Heelys at home (these are tennis shoes with wheels). They would be especially nice on Steven & Lori's marble floors. So, Lori, not quite understanding, brightly piped up and said that she had a pair for him to try on. Here were the results: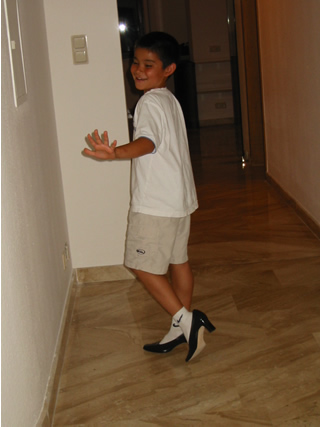 No Lori, Heelys, not Heels!!!
Max's Nike socks went really nice with those pumps -- quite the fashion statement. Needless to say, the rest of us thought this was a hoot (except for Lauren, who thought we were mean):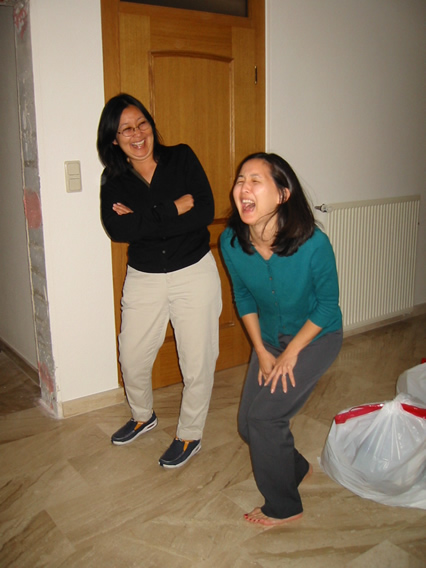 That was about all the laughter we could stand for one night. Max was a very good sport... (this is what happens when the only guy in the house leaves...)
After we stopped laughing, we played cards for a little while. Then, we packed up our stuff and went to bed, because we had to get up very early the next day for our 8 AM train to Paris.