Steven drove us to the train station in the morning for our 8 AM train. Although we got there early, our track had already been announced. We had lots of luggage to schlep, and we quickly found a cart. We were delighted to find that the train station had a lift so that we didn't have to lug our baggage up and down stairs.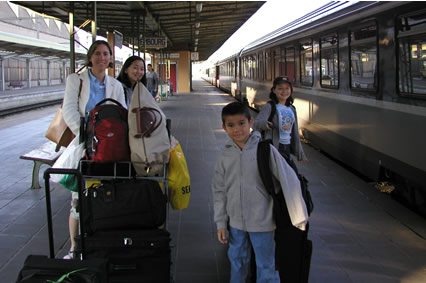 The Luxembourg train station also has a neat conveyance, which is a little escalator for your luggage that runs beside the staircase. So if you don't take a lift, at least your luggage can ride! Italy, take note!
We found our train, our car and our seats, and stashed our luggage.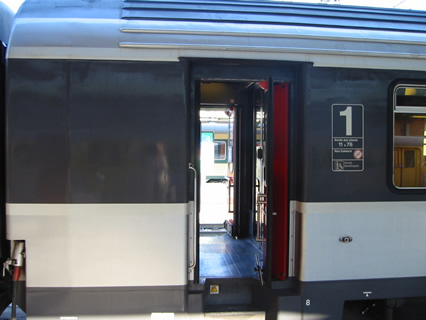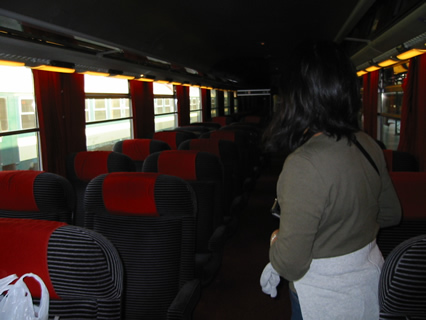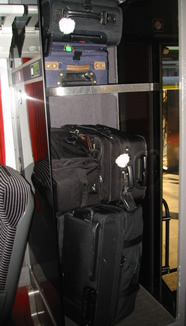 We had four seats (two facing two) together and one across the aisle. The train took off roughly on time, and we were treated to a four-hour ride through the French countryside.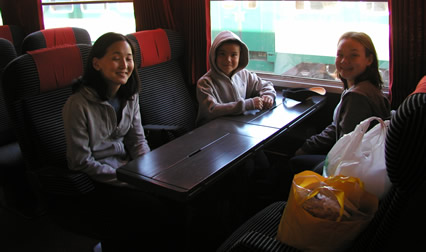 Most of us played cards much of the way, while Lauren slept.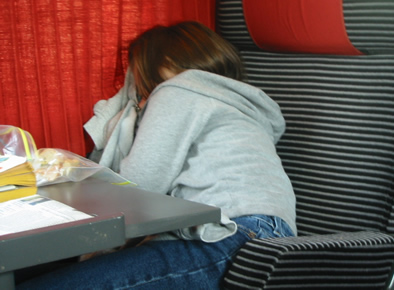 Some rousing games of hearts, and some games of Kings Corners, a game I'd never played before. In hearts, Max shot the moon! His angelic face is beyond suspicion.
We'd packed sandwiches and snacks the night before, which was good because the train didn't have a dining car; only a food cart. Train travel is such a nice way to travel.
We arrived at Paris Est, and caught a taxi to our flat on the Ile de la Cite. What an incredible location! The flat is located on the road that goes right by the Seine (near the Right Bank), about 100 yards from Pont Neuf. Ooh la la!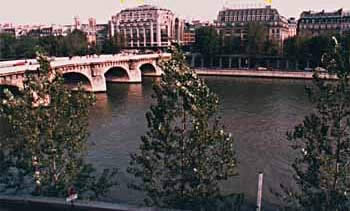 It's on the 2nd floor (which really means the 3rd floor) and has fantastique views of the water and of the Samarataine department store.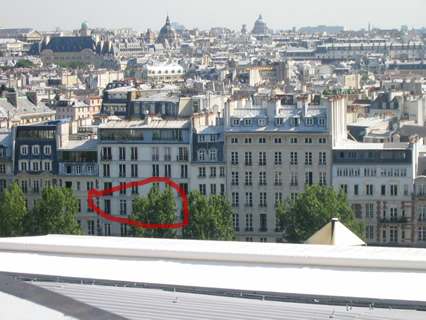 We had the security code to the building, so we let ourselves in. We had to wait a little while in the foyer of the building. The foyer is an old, dark and somewhat spooky place encased in strong wooden doors.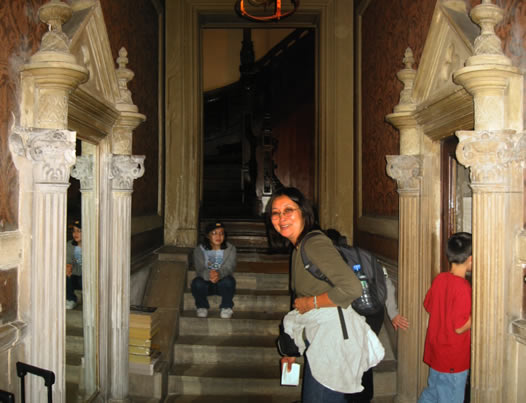 Eventually, the Chez Vous representative came and let us into the place. We had to climb up two flights of spiral creaky wooden stairs to get to our apartment. With all our luggage. Where's the lift?????
The apartment is nice, not as big as in the pictures (of course), with rather old creaky wooden floors. One of the bathrooms is tiny as a closet, the other rather large (by Parisian standards). The decor is very French... nice and light and airy. The sofas are white... I hope they will stay that way while we're here!
After stashing our stuff, we walked down to Rue du Buci, a small shopping street on the left bank, just a few blocks away. What a cute street! They have a charcuterie, a patisserie, a boulangerie... you name it. We didn't buy anything of that sort there initially, but we'd come back many times to do most of our food shopping.
The main order of business was to get a phone. In Luxembourg, we'd been cut off from the world. In London, we'd found it difficult to coordinate when we split into two groups. So Patti and I planned to rent phones so that we could coordinate during the day. The only shop we found was closed for lunch, so we decided to explore the neighborhood while we waited for them to open.
We stopped in a Benetton for Lauren to try on some cute Parisian clothes. We also stopped to get some food at a crepe stand next door. This was a sign that we were officially in Paris!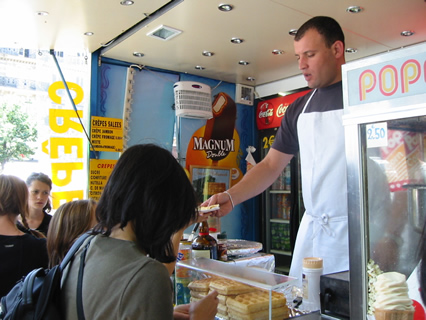 During our explorations we encountered two dogs in a pissing contest (which I suppose is where the expression comes from). The two dogs were in turn marking a piece of railing, and then sniffing each others' butts, turning round and round in circles. One dog tried to chase the other away at one point, but he was not to be deterred. We left before the situation was resolved...
There are a lot of dogs (and cats) on the streets here. Many of them are little dogs accompanying their owners everywhere. Many are bigger dogs off leash. There seem to be lots of dogs wandering the streets, presumably with their owners. Considering the way people drive around here and the amount of traffic, these dogs have an amazing ability to stay alive.
We returned to the phone store and I wound up buying an inexpensive prepaid phone. This is a phone where you fill it up with minutes. When the minutes are used up, you go to any Tabac store and buy more minutes for it. (This is just a card with a scratch-off code. You dial a number, and then enter the number of the card and your phone gets refilled.) This is a cheaper alternative than converting your US phone to GSM (and paying over $2/minute to use it overseas).
After returning to our flat to drop off our purchases, all but Lauren then headed across the river to Samarataine, the big department store right across from our flat. Lauren stayed at home to rest up.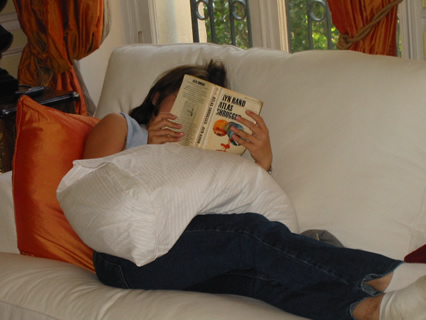 You can take an elevator to the top of the store and go up on the roof where a beautiful panorama of Paris is laid out before you. There's a diarama on top to show you at each point what building you're looking at.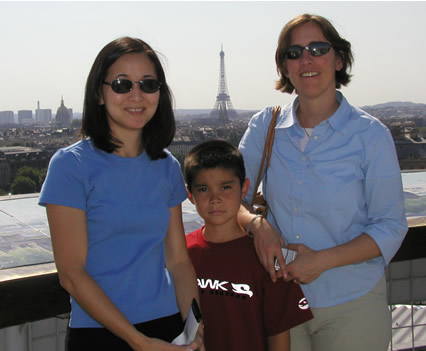 After admiring the view, Patti bought Max a beret before we descended into the basement to buy food. The French department stores also have food courts. So we stocked up on groceries for the apartment. The bread department wasn't very good, so I went back to Rue du Buci and stopped in a boulangerie to buy some baguettes. They were still warm... no, hot... right out of the oven. I felt very Parisian, walking down the street with my baguettes in hand, held only by a small strip of paper wrapped around the middle. I passed many others bringing their fresh bread home for dinner.
I returned to the flat and made everyone sandwiches. They were deeeelicious! The bread was sooo good. This is going to become a daily activity, that's for sure.
Now that Max had the beret, he decided he'd become a beatnik.
After dinner we hopped on a boat just a little ways from our door and took a boat ride up and down the Seine. The guide was "bilingual" and pointed out the sights in French and English. However, her English was so bad that you really couldn't understand a word she was saying. It was a good thing we had a paper guide to what the sights were so we could at least read about them.
We went down the river as far as the Tour Eiffel and up the river just past Ile St Louis before returning to where we started.
Lots of boats along the river: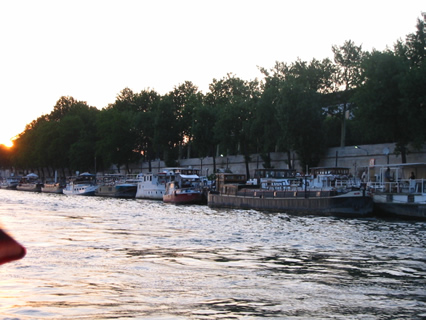 The D'Orsay Museum with the Tour Eiffel in the background: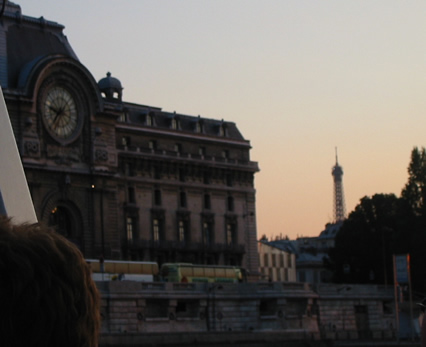 One of the many bridges... A famous one, no doubt, but I sure can't remember which one!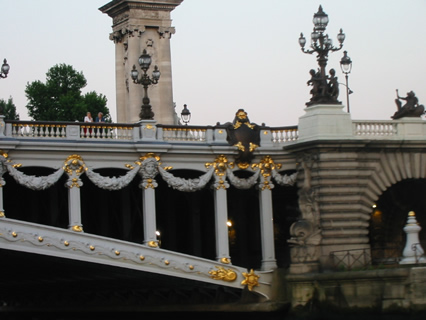 The Eiffel Tower coming...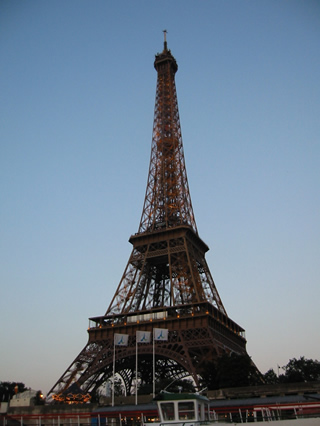 ... and going!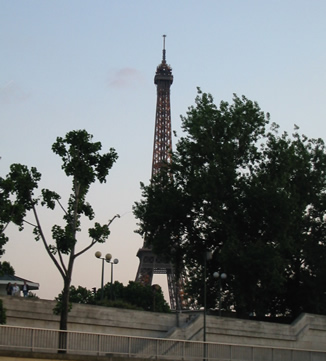 And the Musee d'Orsay again!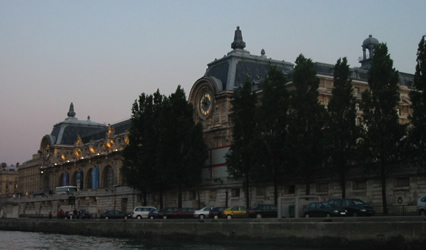 The Pont d'Arts is a pedestrian bridge just next to the Pont Neuf (the next bridge in the distance). People come here every night to have picnics and watch the traffic go by.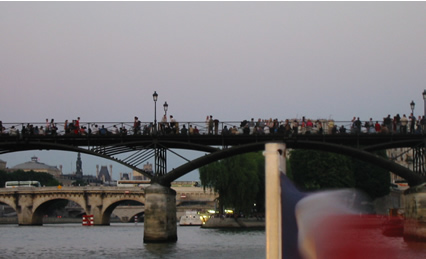 This was the bridge just south of us... again, I don't remember the name. All the bridges had their own character and monuments (usually to Napoleon).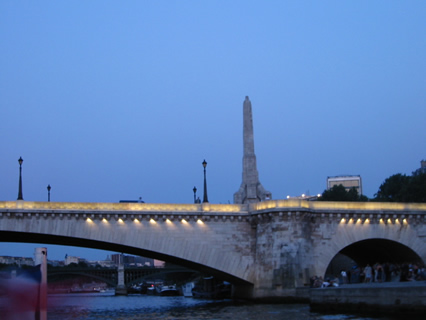 Notre Dame at dusk..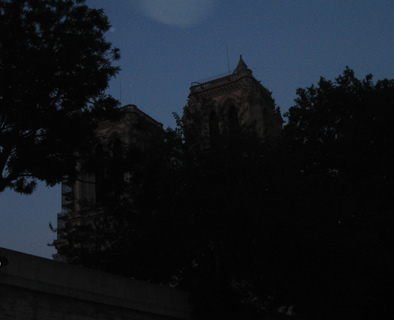 We had started the boat tour at 9:30 and finished at around 10:30. But it was still light out! There are vestiges of light until around 11:15 at night... amazing. It's easy to lose track of time when it stays light so late. The city stays alive until well past dark because the weather is so mild and the nights so long.
But now, it's time to go to bed; tomorrow we're planning to visit la Tour d'Eiffel and the Louvre, so we've got a big day ahead of us.
Bon soir!