Today started out slow, but it ended with a bang... a Chitty-Chitty Bang Bang! (As I write this, I am being serenaded to the main song from the show... please, save me from this madness!)
We stayed up pretty late the night before, and everyone was mighty tired. We had an especially hard time rousting Lauren.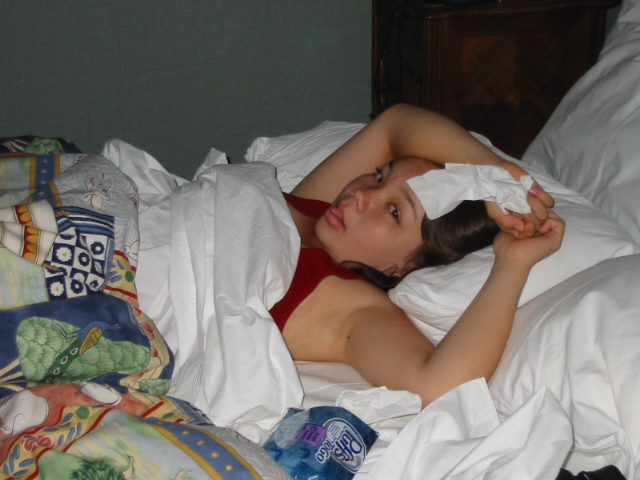 At 10 AM we finally left the flat. The day was rainy and overcast, not at all like yesterday when it was 80 degrees. The kids were very happy!
We walked down to Sloane Square, to Cafe Oriel, a lovely little cafe open to the square. As we were to meet my friend Rafe for lunch in just a couple hours, I ate lightly. Max and Lauren "shared" an English breakfast. Max didn't realize that this wasn't the same thing as an American breakfast though... The eggs were sunnyside up, the sausage was large, and the bacon, Canadian. The blood sausage took a little explaining, but no one was willing to venture to take a taste. Max finished a fraction of his breakfast, and Lauren had toast and fried tomato (which she thought was ... well... gross.)
Everyone enjoyed looking out at the hubbub on the square while we ate.
Lauren's li(n)e: "Breakfast was disgusting! Now, move on! Enough about breakfast already!"
After breakfast, we headed down to the tube and traveled over to Oxford Street. Lauren did a little "shopping" in H&M, while Max looked as disgusted as Lauren did about breakfast.
We then walked over a few blocks where my friend Rafe works and met him for lunch, or in some cases, breakfast. We walked over to a nearby sushi restaurant and had a wonderful Japanese meal. The food in London keeps getting better every time I visit... It was great to see Rafe again (Rafe is a pal from Stanford who moved to London a couple years ago with his family) and catch up on things.
After lunch, we said our goodbyes and caught a taxi over to St Paul's Cathedral. The whole family was awed and amazed. Max said "double cool with knobs!"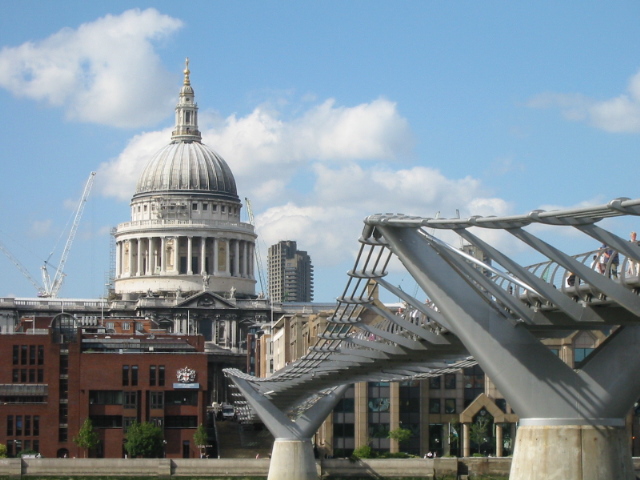 After gaping at the insides, we all climbed to the Whispering Gallery and talked to each other along the wall. We then climbed up to the Stone Gallery where fantastic views awaited us: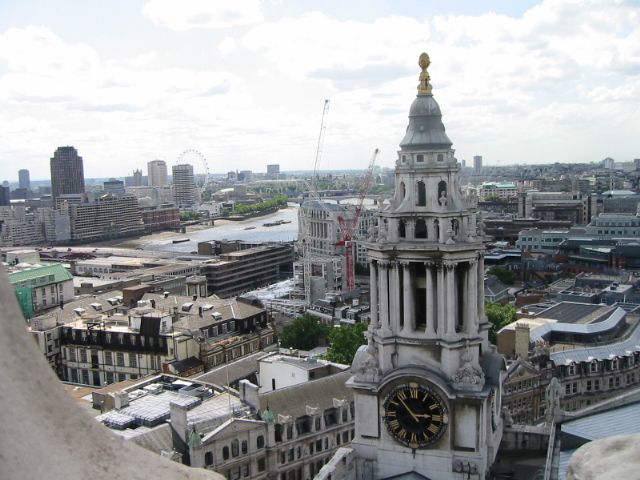 Then, Max, Lauren and Patti walked up to the very top, while I returned to the bottom (been there, done that, afraid of heights) to wait for them. Upon reuniting, we toured the rest of the church and the crypt below.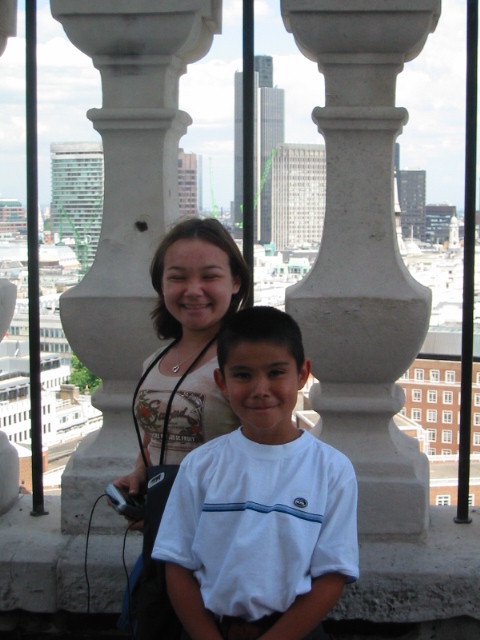 It was now around 4 PM, so we decided to walk across the Millenium Bridge, which was only a few blocks away.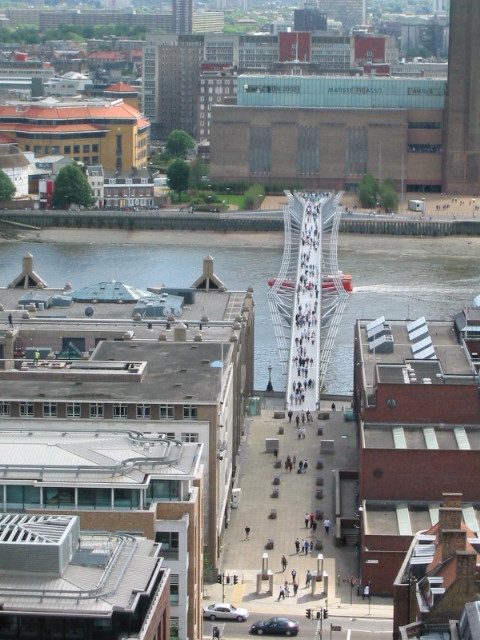 The Millenium Bridge is a pedestrian bridge that joins from near St Paul's to the Tate Modern. It was erected for the millenium celebration. When we were here last in late 1999, it wasn't yet open. Shortly after they opened it in 2000, they had to close it because of instabilities when people were walking across. V. v. embarrassing. Recently, it reopened again (presumably after shoring it up some) and we were able to walk across.
Lauren and I wanted to go see the Tate Modern, while Patti and Max wanted to go ride on the London Eye, the giant ferris wheel they built for the millenium. So, we split up. Lauren and I toured the Modern until they closed, viewing a lot of interesting paintings by Dali, Matisse, Picasso... The most interesting artwork we saw was an upside-down piano called "Concert for Anarchy."
Meanwhile, Patti and Max did a speedy 15-minute tour through the Picasso exhibit before heading over to ride the London Eye. The guidebooks said it would be difficult to get on the same day, but they had no problems. "The views were spectacular," they said. Nevertheless, you ain't getting me anywhere near there! But Lauren still wants to go.
At 6, Lauren and I left the Tate, after stopping briefly in the gift shoppe. We walked, and walked, and walked over to the Monument station (probably NOT the closest one), where we walked and walked and walked to the Central line. We must have walked a mile underground. But fortunately, we were able to get on a train that went directly to Oxford Circus, ironically where we started our morning.
We ran into Max and Patti who were chowing down outside the Palladium. Lauren and I each ate a quick bite on the run, before going in to see Chitty Chitty Bang Bang.
Chitty Chitty Bang Bang has gotten rave reviews, and so tickets are hard to come by. But we were able to get fantastic seats yesterday (10th-row, close to the center) at the box office. Probably these were house seats that had just been released.
The show was spectacular. The singing and dancing were wonderful. The special effects and the sets were stupendous! It really was quite the amazing show. My only regret is that now we're going to be humming the stupid theme song for the next two weeks. (Okay, this is no Candide, musically.) But it was a fantastic show... I would highly recommend it. Everyone loved it.
At the end, we slipped out the side door into a waiting cab, and got home by 10:30. We have a big day planned for tomorrow: we're going to the British Museum, the Tower of London AND the Globe, to stand in the mosh pit and watch twelfth night. Woo-hoo!
And now for....
Lauren's Li(n)es
Warning: EXTREME EXAGGERATION...MAY BE HAZARDOUS TO YOUR MENTAL SAFETY!!!
Hem-hem. Welcome to Lauren's Lines. Mom is yelling at me to go to bed, so i'll just write tomorrow. Having a good trip. I get to go first tomorrow as aunt polly took 5 HOURS to write 6 paragraphs, three of which were about breackfast. I'm tired and I'm going to bed. I hope you enjoyed Lauren's Li(n)es. Goodnight!