PAGE STILL UNDER CONSTRUCTION
Today: Versailles, Rue Cler, Tour Eiffel and a concert in St. Chappelle.
Today the kids woke up late, so I worked on the web site some (and you were wondering why there were so many pictures posted finally!). We finally rolled out of the house, sans breakfast, after 10 AM.
We walked over to the local RER station (where you catch the regional trains out of the city), and hopped on a train to Versailles. Versailles holds the palace and gardens (currently ~1000 hectares) built by King Louis XIV, and used by kings through Louis XVI (hubby of Marie-Antoinette) before Napoleon revolutionized France and moved to the big city (and took Marie Antoinette and her head with him). It takes about 30 minutes to get there by train.
Upon arrival, we were immediately struck by the immensity of the place.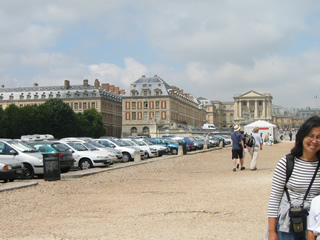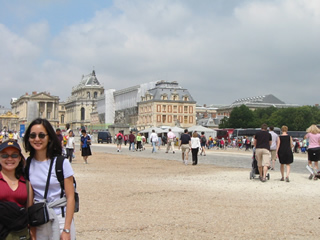 Of course, before we could go inside, we had to attend to a little "business" first.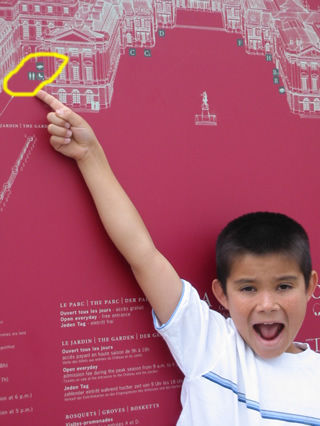 We decided to tour the gardens first. (BTW, the carte musee doesn't cover the gardens.) After paying our price to get in, we spotted a horse-drawn carriage on the right. The price was right, so we decided to take a tour of the gardens by horse and buggy (much easier on our feet!).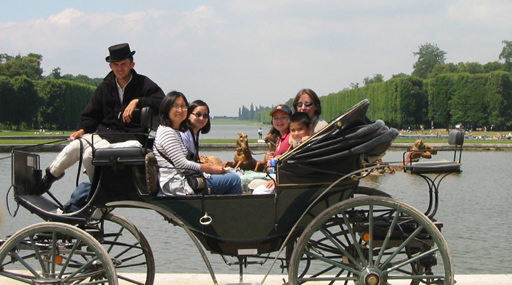 Piloting the buggy we had a driver and a guide. Our driver was classically French and spoke little English. Our guide spoke English very well.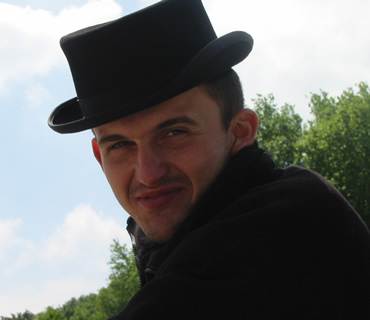 They gave us a nice guided tour in good English the whole way. Midway through the journey, they had to stop for some lunch, so we did too. We snagged some Oranginas and some panini and hopped back in the carriage. Of course, while we were waiting, Max did some horse whispering. In fact, I think the horse told Max a joke!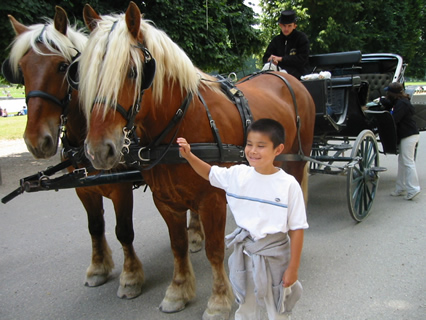 The gardens are immense with lots o' fountains. (still to come, pics of the gardens)
The horses needed a drink at the end.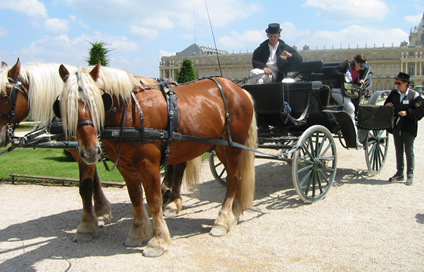 After the gardens, we toured the palace... oh my what crowds! (didn't follow rick's advice) had enuf by that time.
We left around 3 and went home. We were tired.
Lori and I did rue Cler and Patti and the kids went home to rest. I passed up Furla bags on sale and Lori bought a cute pair o' sandals. We also bought lots of food to take home.
Went home and made delicious sammys.
Patti, Lori and kids went to the Eiffel Tower, where they froze their butts off, and went all the way to the tippy top (at 900 meters). Didn't get home til after midnight. The picture below shows you just how cold they were.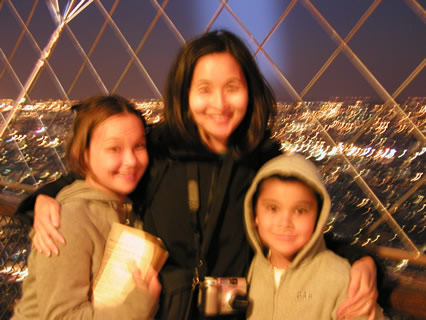 I went to a concert at Saint Chappelle, just a 5-minute walk away. Mozart, Schumann, and the requisite modern piece by someone I'd never heard of. The whole thing was lovely! Especially the 5-minute walk home. Ahhh... Caught up on a little e-mail and then hit the sack at 12:30. Tomorrow we'll be sleepin' in!
Tomorrow: shopping, shopping, shopping!!! (Max's favorite thing in the world.)