Today we traveled home on United Flight 961... nonstop to SFO: depart CDG 12:20, arrive SFO 14:45. Ha! Well, not exactly.... we actually arrived home at 8:19 PM. Story at 11.
Patti woke me up at 7:30 AM. I'd stayed awake until 2 AM finishing web pages for the past three days and uploading everything. (Did you read it???) We were all packed and ready to go. We put our sandwiches and croissants in our bags, and schlepped our stuff downstairs to be ready for the taxi.
The taxi arrived a little before 8. It was a rather small station wagon. How would everything fit? But fit it did. We were out of there by 8. Au revoir, Paris!
Traffic was fairly heavy this being a Monday morning. But the cab driver had no trouble navigating through the Parisian morass. The weather was rainy... France must have been shedding tears at our departure.
We arrived at the airport a little before 9. Patti and Lauren found carts (always a trick), and we loaded our luggage and navigated through the circular Charles De Gualle Terminal 1.
I have to say, Paris has the worst airport of any large city I've ever been in. The layout means you have to plow your way through lots of congestion. In the "duty free" portion, there are a few small shops and that's it (give me Heathrow any day!). The waiting room is linoleum floors and dated seats. There's one little place to get a snack while waiting (good thing we packed sandwiches!).
We finally made our way to United. We had to go to get our papers stamped for the European Tax Free system to get our TVA (VAT) back. They asked Patti to show her her watch. They asked me nothing, even though I had four forms to process and a huge back o' stuff. (I had a young woman helping me and Patti had a middle-aged man helping her... could that have been le difference?
We went back to United, where they (thankfully) have a separate line for Premier and Business class flyers. We passed our stuff through the xray machine and went to the counter.
Excusez-moi, monsieur, de vous déranger... nous avons un probleme. The guy at the counter was nice and helped us out. He gave Patti and I exit row seats that were two rows in front of one of our other seats. The plan was to trade our aisle seat on the other side of the plane for the one next to the solo window seat we had. The exit row seats were good currency for trading as well.
But what about the painting? I told the man I was taking it with me on the plane. No objections.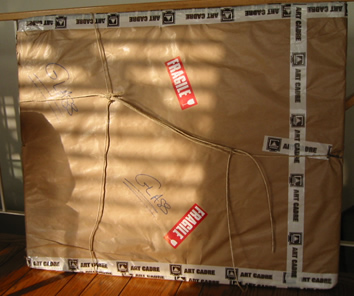 After checking our luggage, we mailed our forms back, and went to find the gate. Patti thought that there oughta be elevators and was not to be deterred. So, after inquiring, we went upstairs to the arrival floor where we were directed to go downstairs in the elevator. Back to where we started!
Resigned to getting on the escalators, we dumped our carts. Lugging my painting, backpack, and carryon bag, I went through the security. We all went up the escalator, found our gate, and traveled a mile on a moving sidewalk to get to the secured area.
My painting was not to fit through the xray machine there. So after I walked through the metal detector, the security officer wanded it. Of course there was metal at every corner of the painting. He almost made me unwrap it, but when I told him "it's just a painting!" he took pity on me and let me through. Kinda makes you wonder about security, eh? Going through later (after a shopping expedition in the pitiful duty-free section) they made an elderly woman open her suitcase whereupon they confiscated a nail clipper (oooh dangerous!), and two small knives. I felt a lot safer after that.
I persuaded the United folks to allow me to lean my painting up against the wall next to the jetway, out of the flow of traffic and people in the waiting room. We had a long time to wait.
Our flight was to leave at 12:20. Well, it was supposed to leave then. Turned out there was a malfunctioning part on the plane they needed to replace. Every 15 minutes or so they'd give us an update in English, or rather, some language approximating English. "A part is wrong on the plane, so we are going over to Air France to try to get a replacement part." Don't you know that Air France flies Air Bus planes and not Boeings? "We have obtained the part... but it is not properly configured, so we must go back to Air France to see if we can get a properly configured part." Well duh! "We now have the part and it is properly configured." And so it went.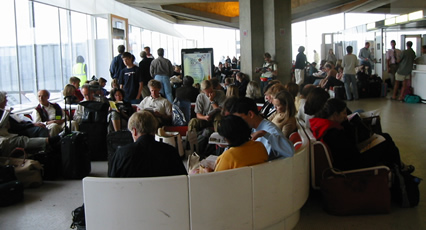 In the meantime, they boarded a Russian flight through the same jetway. Everyone for our flight got in line thinking it was the flight to SFO. Hmmm... nope! But Russia in the summer wasn't looking so bad!
Through all this, the kids read or played games, and I kept going back to the duty-free shopping area to get more stuff (I did have a few square centimeters left in my bag...).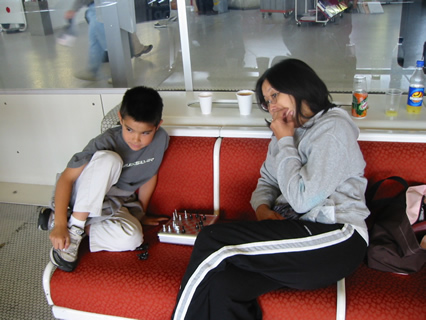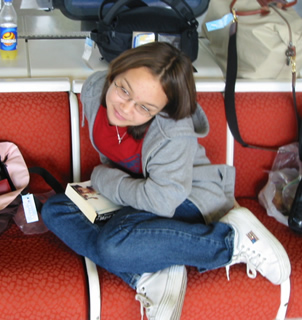 Every time they'd announce something that seemed like we should get into line, we all got up. Then once it was apparent it was not to be, we had to find different seats since someone had already absconded with ours. Kinda like musical chairs!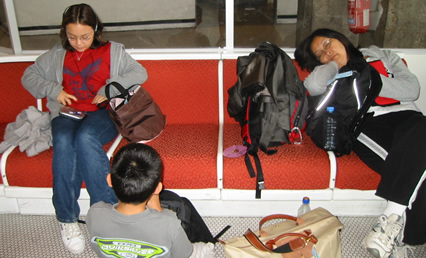 Finally, the plane was ready. They had the correct part, properly configured, and it was time to get on the plane. However, by this time, because the flight was so late, they announced they would have to reroute the flight through Chicago since flying to SFO would exceed the maximum flight time of the crew. So they would change crews in Chicago, while we stayed on the plane.
I collected my painting and walked up the jetway to the entrance to the plane. I was pretty pleased I'd gotten it this far! The flight attendants were very nice. It turned out that there was no closet space in which to put the painting. Apparently some 777's are configured with closet space up front, others are not. They couldn't put it behind the row of business class seats because of safety regulations. So they had to check it. They assured me they'd pack it safely and call ahead to SFO so that the baggage handlers would know to treat it carefully. I was hopeful, but also realistic.
In the meantime, Patti and the kids had gone in through the other entrance. As I walked back to our seats on the plane, I caught up with them. We settled ourselves down in the exit row and the row two rows back. The woman who owned the aisle seat came up and happily traded seats with us. Then we traded our exit row with the folks behind us. So our seat situation was much much better.
Eventually, we took off. The flight to Chicago was fairly uneventful. Max and I played backgammon and watched movies. Lauren and Patti read and slept.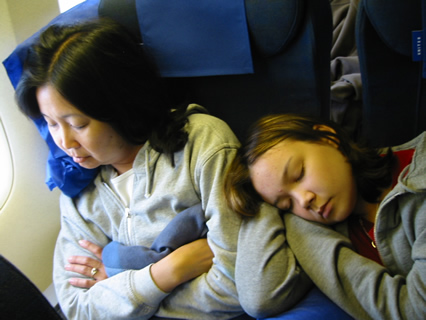 In Chicago we switched crews. Max didn't feel good (bad beef jerky?) and got sick a couple of times. He was considerate enuf to wait until he could get into the bathroom though!
We finally arrived in SFO at 8:30 PM, only 6 hours late. At least Kurt didn't have to miss work to pick us up!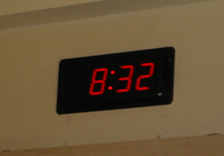 We collected our baggage, including the painting, and proceeded towards customs.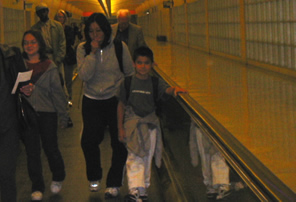 It was actually quite confusing. So even though we had written our declarations on our card, we just gave our cards to the custom agents and walked through. I'm not sure why we didn't pay duty, but I didn't argue. (I have a feeling the customs agents think the duty regulations are stupid too... the duty-free amount has been $400 for at least the past 10 years.)
The guys were there to greet us. We piled our stuff in the van, and we drove first to our house, where we unloaded me and my stuff and Mike picked up his car. Then, they drove to the Workmans where Kurt traded cars and drove home. Of course I was already asleep in my bed by that time!
Postscript: The painting had a crack in the glass on the back. Much better than I thought it would be! Lauren got up at 5 the next morning and said she thought to herself "Aunt Polly said no matter what, stay in bed even if you can't sleep," and then got up and made cookies anyway. Patti slept to 6:30. Max woke up at 3 AM and laid in bed until it was light. I slept until 7 and then went to work (needless to say, I wasn't that productive).
The kids impressions? "Europe was fun, but it smelled sooooo bad."
The thing the adults will miss the most? The bread, without a doubt.