Today: Tower of so London, Tower Bridge, British Museum, Twelfth Night.
We got up relatively early this morning, and walked down to Sloane Square again. The place has changed in the last three years (imagine that!).. not all the same shoppes are around. We got ourselves some coffee and croissants for take away, and then headed towards the tube.
Taking the tube from Sloane Square is really much nicer than going to Victoria Station. It's smaller and easier to get around there. We hopped on the Central line and headed to the Tower of London. For a change, we were able to get from point A to point B without having to change trains. AND we even got to sit down!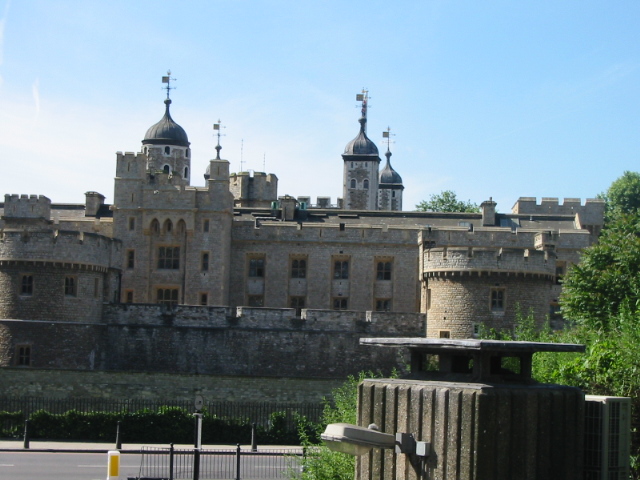 The kids were quite tired, this time from lack of sleep rather than jet lag. At least we're all over the jet lag now!
We first went to visit the Crown Jewels. If you've never been, you go through several rooms which are showing videos of coronations, the history of the jewels, etc. Finally, you get to a moving escalator that takes you slowly past the jewels. They are really quite incredible and ostentatious. (Lauren was disgusted...) There was a coronation spoon from the 12th century (the oldest artifact there), and a sceptre with a 500+ carat African diamond in it, amongst the crowns and other things.
It wasn't crowded, so we viewed the jewels a couple of times, using Rick Steves as our guide. Then we proceeded into the adjacent room where there were a variety of gold Chalices, punch bowls, plates, etc on display.
Exiting the Jewel House, we moved over to the White Tower.
This is a fortified building, where the royals often holed up in times of strife. It was renovated quite a bit from the time we were here last, and we got to see rooms that weren't open the last time I was here. On display are a wide variety of armor and weapons used in olden times.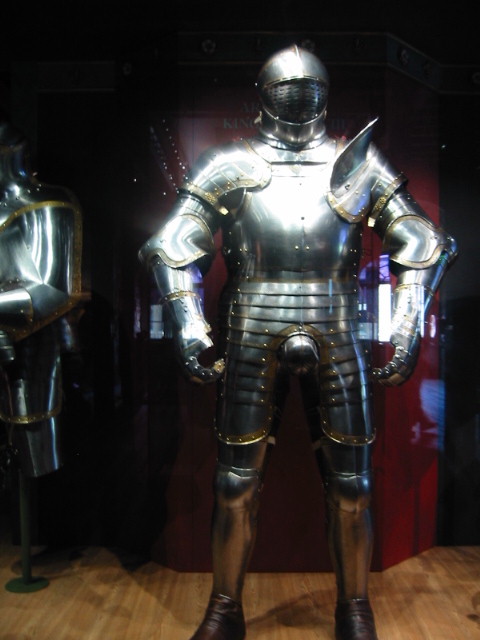 Lauren was really dragging by this time. We visited the gift shoppes, where Max bought some Tower of London chocolates, and Patti bought a tiara (yes, that's right, a tiara... I think Lauren will probably steal it). We toured the grounds for a little while more, and then we left Lauren on a bench to take a rest.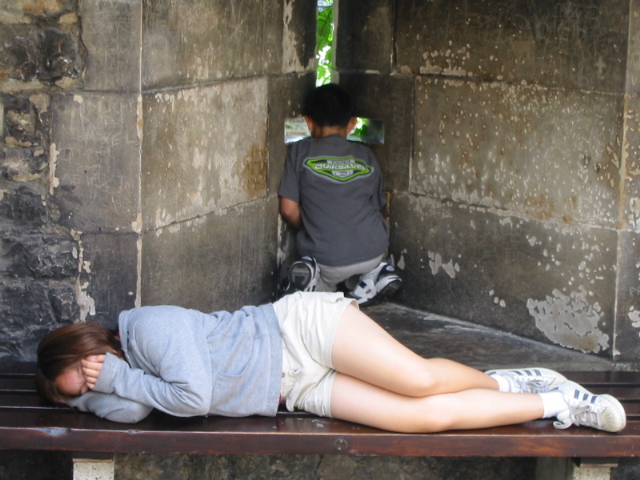 Meanwhile Max, Patti and I went to go up on the Tower Bridge.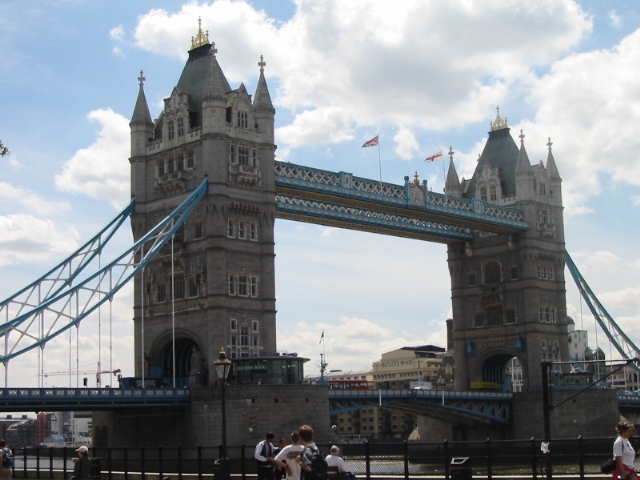 The Tower Bridge is probably the most beautiful bridge in London. It's a working drawbridge, that has a pedestrian walkway way up high above the roadway. There are also sidewalks on the roadway, however. The only way you can go on the higher walkway is to pay for the Tower Bridge Experience! (Museum passes do not cover this...)
It was a fascinating tour. After ascending to the top of the bridge in the elevator, we watched a short film on the history of the bridge. The bridge emerged out of one of several clever designs that were submitted for consideration. It was painted the colours it's currently painted for the Queen's Silver Jubilee.
We walked down one walkway to the other tower, and saw another short bridge on how the bridge was constructed, and how the bridge operates. We then toured the eastern walkway. Both walkways have really nice views of the Thames and the sites around the Thames.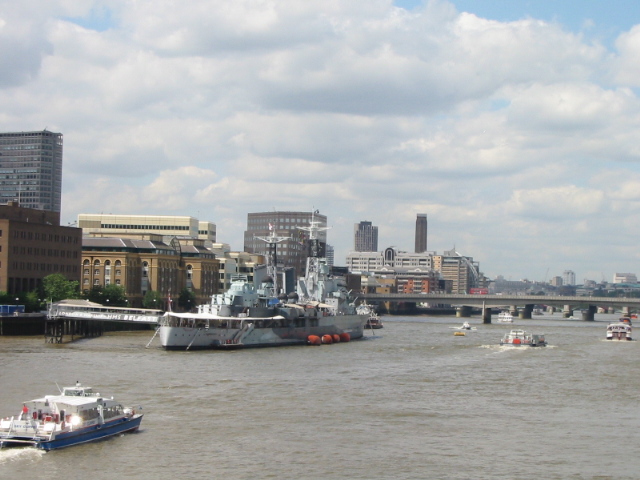 After descending, we crossed the bridge to see a working model of the engine room. Again, very interesting. They had places where you could do brass rubbings scattered throughout the display, so Patti and Max made themselves souvenir rubbings of St. Paul's, the Tower Bridge, and a couple other landmarks. (Below is a photo of the Mayor's hideous new office buliding, almost completed. But the tree looks nice.)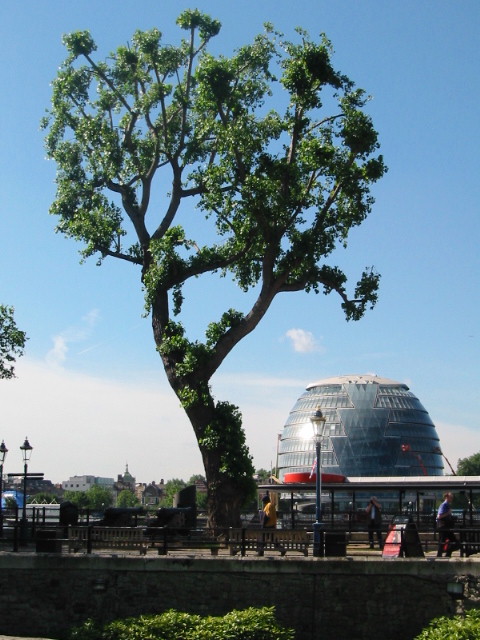 It was now almost 1, so we needed to get back, get Lauren and get over to the British Museum. We quickly walked back. By this time, Patti's knee was killing her. But she soldiered on. Lauren was still resting on the bench where we left her. We picked her up and went to a little cafe outside the Tower and had a bite to eat before catching a taxi to the British Museum.
Today the museum was open. They had a special exhibit on the Queen of Sheba, but we opted to see the regular exhibit instead.
The museum is quite different from the last time I was here. They've now moved many of the books and papers into a separate British Library, located elsewhere in London. They've created a huge round center part of the museum and turned it into the Reading Room, with circular shelves lining the room, and lots of benches to sit and do research. It's a gorgeous and spectacular room inside an amazing space in the museum. My pictures cannot do it justice.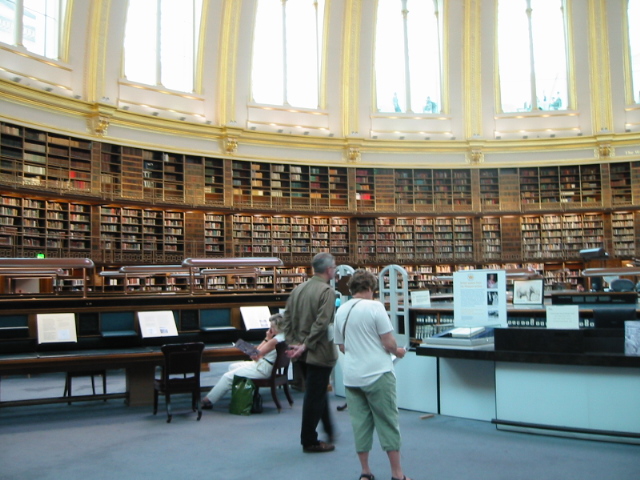 We collected audio guides, and Lauren and I went to tour the ancient Egyptians and Greeks, while Patti and Max went on a family tour of bodies. Lauren and I saw the Rosetta Stone, sarchophagi, friezes from the Parthenon, and many many treasures. Lauren was in heaven!
After about an hour and a half, we met Patti & Max at the gift shoppe, and then left.
It was now 4 PM, and we had to decide what to do. There wasn't enough time to go home and rest, but rest was what everyone needed. So we walked across the street to the conveniently-located Starbucks, bought some drinks and snacks and went to settle in on the plush chairs they have in the basement. Max and I read, while Patti and Lauren slept.
After about an hour, we emerged back into the sunlight (oh, it was a beautiful day today!), and hopped in a cab to go to the Globe. We had standing room tickets for the Globe this evening (the rest were sold out).
We ate a light dinner at the cafe there, and then proceeded to our standing points.
The Globe is an authentic reconstruction of Shakespeare's Globe theatre. The columns on the railings look like marble, but they're really painted wood, just like the original. The floor is cement, rather than straw (fire regulations cannot be ignored...). The roof, however, is thatched.
We were going to be seeing Twelfth Night from what's called the mosh pit. A three hour play standing... Given that I'm the tallest one in our party, this was going to be interesting. Max and I went to stand right by the side of the stage, where Max was able to pull himself up and rest his arms and head on the stage. I held him up by his knees so we could both see. Patti and Lauren stood further in back, but more towards the center. After a while, Max tired of this, and got his mom's backpack to stand on. I added my purse to the mix and he was up high enough that he could comfortably see.
The play was a hoot. It was a play of mistaken identity, and it's complex enough that I can't even begin to describe the plot. It was done the authentic Shakespearean way: all the actors were men, some were men playing women. One of the leads was a man playing a woman playing a man. Confused?
The play was very funny, and the actors were excellent. Max was squealing in delight even though he didn't understand everything. Originally, we were just going to stay for the first half, but everyone liked the play so much that we decided to stay for the whole thing, even tho our legs were killing us.
The play ended around 11 (it was a long play, given that it started at 7:30), and we called for a cab. The Globe is in an area of London that cabs don't frequent normally, so we had to wait a little while before a cab came to fetch us. We drove back along the Thames, and were treated to beautiful nighttime views of sites like St. Paul's and the Millenium Wheel.
We finally hit the sack by 1. Tomorrow we'll sleep in.
And now for...
Lauren's Li(n)es:
Wahoo!!! I FINALLY get to write something! Alrighty, I'm your host Lauren and I'm going to tell you how this trip is REALLY going. Okie dokie, let me just let you know, I HATE and DESPISE English culture. They waste shmillions of pounds on their royal crowns, however, there were people starving in dirty streets. And what surprises me even more, if you were royal, no matter how much of an incompetent boob you were, the country threw itself into your hands. Anyway, I just apologize in advance for my biased opinions and thank goodness I'm American!!
And yes, all cultures and countries have done despicable and ruthless things, but bear with me, I'm just focusing on England now. Haha, wait till I I get to France.
So, today, I was brutally shoved out of my stiff bed at 8 o'clock. We ate a breakfast of crossaints and oj. Now see how that was nice and simple? If you want more detail about breakfast, refer to aunt polly's section. Haha. It was very good and then we took the tube over to the Tower of London. It was disgusting and I hated it. It was dirty, and everyone was up-tight. I don't like England's history. More on that later, moving on, aunt polly's about to boot me off...
Then we went to lunch which was FABULOUS. I had lentil soup, very good. We then saw the British Museum. It was AMAZING. It is my favorite part so far. Aunt Polly and I walked through the Egyptian wings and the Greecian-Roman wings. Very interesting, more on that tomorrow.
We ate din-din at a cafe in the Globe theatre. I had a caesar salad and strawberries. Excellent, but nothing to brag about. We then saw "The Twelvth Night" ABSOLUTLY AMAZING. IT WAS HYSTERICAL!!! I LOVED IT. More later.
Aunt Polly's about to go berserk. Ok, speeding it up....
We took a cab home where here I am at 11:55 writing this here right now. Love you all, oh and dad, mom decided it was a really cool idea to purchase a TIARA at the Tower of London. Haha. More tomorrow, if the almighty Polly allows. Dear Lord, Mom is babying Max, what a surprise, he's writing a letter. G'night Ladies and Gents.
TOMORROW'S SUBJECT: WHY DOES LONDON SMELL SO BAD?