July 20: Longchamp to Valloire via Col du Telegraphe
Profile of today's TdF stage: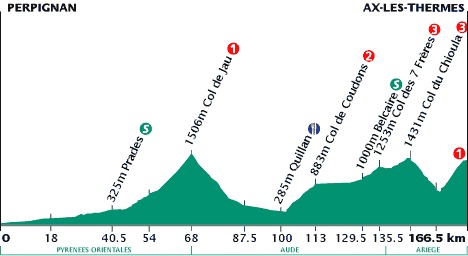 Today's journal entry:
Above is the map of today's stage, Stage 12.

We leave Longchamp and descend down to the Arc River Valley before we climb the Col du Telegraphe (1566m). After finishing the climb, we descend to Valloire and our hotel.
We woke up today to the sound of rain. We slowly ate breakfast waiting for the rain to stop. Around 10 AM the rain slowed down, and we got ready to leave.
The descent from our hotel is quite steep and very tricky, with many hairpin turns and precipitous drops. We were going to lose almost all the altitude we had gained from yesterday. Think about it... 6000 feet in 17km.
It was cold, windy, and raining off and on. Leslie took several from our group down in the van. I wanted to do the same, so Phil left to go down and wait for me in the valley below. Eventually, I decided just to chance it, and did the slowest descent in history. I'm still a little spooked from having crashed in the rain in Torbole. But I didn't crash today!
We met at the town in the bottom, and had a hot chocolate while I waited for my fingers to lose their numbness. On the way down, I noticed that either there's something wrong with my bike or I was shivering so hard that my bike was wobbling all over the place. It was cold!
The hot chocolate hit the spot, and we took off towards the Col du Telegraphe. The way over was mostly flat, passing through little towns along the way. Occasionally it would start to rain, and less often the sun would peak its head around the clouds for just a moment.
We reached the base of the Telegraphe and started to climb. The climb was 12km, and although was shorter than yesterday's, was steeper. It was quite hard, especially considering we were all tired from yesterday.
Halfway up the hill, Phil took my fanny pack from me so we could climb faster. Phil finished the climb ahead of me and then stopped to take some pictures.
The views here were spectacular. You could see the little town we came from in the valley as just a speck down below. The snowy Alps were all around us. Really incredible!

We didn't hang around long because it was cold and rainy. We descended to the town of Valloire, another ski resort town in the Alps. This town was bigger than yesterday's town, and had a real village with an open-air market.
Phil showered and changed while I watched the tour coverage for today. After he was ready, we went out to get lunch. We wanted to get lunch somewhere where we could watch the coverage of the rest of today's stage. It was after 2, and we couldn't find an open bar, so we made ourselves a pic-nic from supplies purchased from vendors at the open-air market and returned to our room to consume the feast.
We ate sandwiches while watching the tour coverage. Nothing much was happening until the last climb. There were several riders of little consequence out in front of the main pack. Then, Jan and Lance took off. Jan led up the hill, while Lance marked his every move. And then, Lance just took off, leaving Jan in the dust. At the end, he gained more seconds on his rivals ahead of him in G.C. The overall placements for the top riders didn't change substantially though. Tomorrow should be another opportunity to get closer to the yellow jersey!
After the stage was over, I showered and took a quick nap. I realized that I was quite tired. Then it was time for dinner, which was a less impressive affair than last night. But I sat at a table with several people from the group that I hadn't met yet, and we had a very nice time.
We returned to our room at a reasonable time, and Phil wrote postcards while I worked on web pages. Tomorrow, the Galibier!