July 15
: The French Riviera -- 3 countries in one day
--
Today's stage of the TdF (TIOOYK)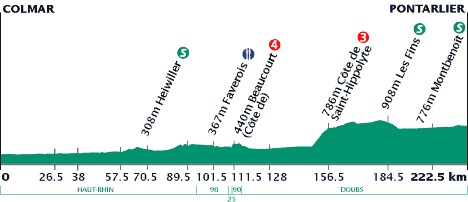 Today we got up earlier, in time to have breakfast at the hotel. Again, it was a petit dejeuner, with coffee and croissants, only more expensive because it was in our hotel!
After breakfast, we walked around town some more, exploring new areas higher up on the hill which we hadn't seen yesterday. There was a small flea market in one area, and we walked through that.
Because it's Sunday, the trains don't run all that often. In fact, we can see as few as one per hour in certain parts of the day. (This is one disadvantage of staying in Villefranche-sur-mer... but the other advantages more than make up for it.)
In the late morning, we headed off to the train station to catch our train. Today we were going to go east and visit Ventimiglia (in Italy) and Monte Carlo/Monaco. Three countries in one day! It's really too bad they don't have passport control any more...
We arrived in Ventimiglia in the late morning, and it was market day there as well. We walked around the open-air markets, which were lined up next to the beach. It was really good to hear Italian spoken again! Phil bought a nice tie, and I bought a couple of scarfs. Both were very good deals... in fact so good, that I'm quite sure they may only last for a couple of wearings. (For me, I bought a silk shawl and a linen shawl for 67000 lire... about $30.)
After finishing with the market, and of course, failing to find a bike shop, we stopped at a cafe for a coke and a coffee before heading back to the train station.
Ventimiglia is an interesting contrast to the cities we were just in. It's poorer than its sister cities to the west, and as such doesn't seem to be a big vacation spot for either the Italian or the French. Italian was the language most often spoken; it seemed to be an abrupt transition from its next-door neighbor. In contrast, in the northern part of Italy, there seems to be more bilingualism/biculturalism for a long way from the border.
We hopped on the train and went to Monaco. It's obvious from the moment you step off the train that Monaco is a city with a lot of money. The train station is a gleaming modern wonder with a spectacular view of the sea.
On the escalator up (which wasn't working at the time), there was a shady-looking guy in front of us who stopped moving all of a sudden. He was obviously casing us... We quickly passed him, and at the top of the stairs were advised by an english-speaking couple to watch out for him since they had a friend who had just been ripped off the week before. Good advice! But we had no problems...
We were hungry by this time. Not much seemed to be open today since it is Sunday. But we found a cafe on one of the main streets, and had a nice lunch before continuing our explorations.
Our first stop was the Tourist Information office. We got a nice map of the city with clear indications of the major sites. We set off for the Casino. The Casino is the place where 007 played baccarat with his adversaries. Quite an elegant place where the high rollers toss around $100 bills without a care in the world.
The casino is a magnificent looking, elegant building, at the end of a beautiful park. In front are parked Ferraris, Mercedes (S-classes, of course), Range Rovers, Jaguars and other similarly elegant and expensive cars. Perhaps they are parked there merely as a lure for tourists, but somehow I doubt it.
We walked in, and used their nice facilities before going into the Casino proper. It costs 50 FF to gain entrance to the casino. We paid our entrance fees, but just as we went in, a German woman stopped us and implored us to buy her a chip from within the bowels of the casino. She had promised a friend she would bring her back this memento of Monte Carlo. The cheapest chip you can buy is 50 FF. So we went in, and bought two chips, one for her and one for me.
After completing the chip transaction, we went inside the casino to take a good look at the place. The main room was an expansive and elegant room, with gold filigree on the walls and ceilings. Incredibly opulent. In the center there were several tables in action, with most of the tables devoted to roulette. In an adjacent room, there was an elegant room devoted to video slot machines and regular slot machines. Video poker was very popular.
We stood and watched for a while while a casino employee pushed the button on a huge slot machine, eating up its patron's virtual money, and occasionally regurgitating some to keep things interesting. This machine was all electronic. The money was debited or credited on a counter; no real coins to liven up the action. Needless to say this got boring pretty quick!
Phil had been hoping to see or play blackjack, but it turned out that this casino was completely devoted to European games. The American games were featured at a more traditional (e.g. less classy) casino next door. So we left, vowing to come back later in the evening when there was more action.
We walked from the casino down to the harbor, quite a hilly walk! Monaco, like many of the Riviera towns, is etched into the hillside above the water. So it's almost impossible to avoid hills. To get down to the harbor, we had to walk down a long set of stone stairs.
The road around the harbor comprises part of the race course for the famous Monte Carlo Grand Prix. Yachts sail into their reserved slips prior to the race and their owners and guests can watch from the boat. It's a rough life!
Along the harbor there were amusement activities for families, like mini race car tracks for kids and for toddlers, bungee jumping, etc. We walked past, taking in the sights but declining to participate because we were on our way to visit Prince Rainier's palace, on top of the hillside on the other side of the harbor.
To get up to the palace we had to walk up another set of stairs. I guess this is good preparation for climbing the Alps!
We finally reached the inside of the compound where the palace was. A gorgeous open courtyard is at the center of the complex. Guards decked out in dress whites guard the palace, with the guards changing every hour in a ceremonial fashion.
It was starting to rain, so we decided to go into the Palace for a tour. We went on a hasty "guided" tour of the palace, given in English. Basically, the tour guide would get to each point where we were to stop, and push a button, whereupon a recorded voice would give us the low-down on where we were. Somehow this lacked the personal touch! But we toured the rooms of the palace, which were opulent and graced with art from the period.
After we finished the tour, we visited the adjacent Napoleon museum, which had lots of artifacts from Napoleon's time, including several of the hats that he wore, and busts of Napoleon sculpted by various people.
The museum was closing, so we left and walked around the palace grounds some more, taking in the incredible views, before hopping on a bus back to the casino.
We reentered the casino, our original ticket being good for the whole day. There was more activity, and interestingly enough, some of the same gamblers were there whom we had seen there before. We didn't stay long, because roulette just isn't that interesting. We quickly checked out the American games casino next door, but this was just too much like Vegas so it was time to leave.
We left Monaco, following a tortuous path to the railway station. Phil's feet were killing him, and he was glad to arrive at the station. We were both sweating like crazy with the exertion in the weather...
We caught the train to VF-S-M, and enjoyed the ride back along the coast. Near our hotel, there was a "joute nautique" taking place. This was a jousting match with contestants standing on the end of a boat. It was really quite a sight to see!
We returned to our hotel rooms, put our stuff away in our rooms, and went out to dinner at a restaurant around the corner. This time I had a seafood dish, and Phil had pasta. After dinner we went around the corner for some gelato, and ate our gelato while sitting and listening to a three-piece jazz combo that was serenading the patrons of one of the outdoor restaurants.
We finally returned to the hotel (which was literally 10m away), agreed on our meeting time for tomorrow and went our separate ways.
While I was writing today's entry, at 11:30 at night, I heard some loud bangs. Our rooms overlook the harbor, so I looked outside to see fireworks! There was another fireworks show happening across the harbor at neighboring Cap Ferrat. The show was excellent, and ended with a series of red hearts (doubled, one inside the other, in some cases). I really am not sure I want to leave this place!
Tomorrow will be a travel day. We are going to try to get an earlier TGV so we can get into Albertville and have time to put our bikes together at leisure. The next day we'll have to leave really early if we're to get to the top of l'Alpe d'Huez before they close. On TV, it looked like the weather forecast is for rain in the Alps for the next week. Hopefully this just means afternoon showers!