July 16
: Nice and travel to Albertville
Today's stage of the TdF (TIOOYK)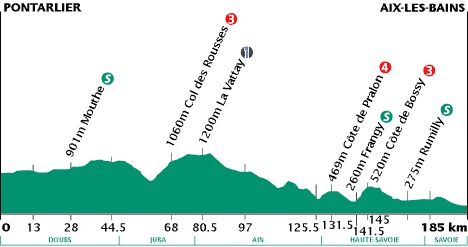 This morning we got up very early. We decided to take a taxi to the Gare SNCF in Nice, since it's such a hassle to lug our luggage over cobblestones. We checked out of the hotel, and our taxi driver picked us up at 7:30 in a nice Mercedes E class.
After arriving safely at the station (fare: 150 FF), we attempted to get an earlier train reservation for Lyon. I went over to the ticket window and the ticket agent informed me that every possible train was full, full, full! So we consigned ourselves to having to consign our luggage, and stashed our bags in a big train locker at the baggage holding area (30 FF for the day).
We walked down to the pedestrian area, and found a nice cafe that served dejeuner americain. Phil had a frambon et fromage omelette (hi-hat ommie without hashbrowns, for those in the states) and I had seulement a petit dejeuner, which consisted of baguette, orange juice and espresso.
The cafe was very pleasant, and the owner quite nice. Phil had to talk him into serving him an omelet with both cheese and ham. We lingered over our breakfasts for a while, reading the news of yesterday's stage in the tour in l'Equipe.
We bid adieu to the cafe, and went to look for an open bike store. Many of the shops were closed this morning, perhaps because it was the Monday after Bastille day, or perhaps because many of the shops are always closed on Monday morning. We strolled past the closed shops and went back down to the beach.
We stopped at a cafe on the beach to have a few drinks and relax. Our train didn't leave until 3:35 today, so we had some time to soak up more atmosphere. The weather today was very nice... enough wind to make it feel even a little bit cool. A contrast to the humidity of yesterday.
After our drinks, we strolled through an open-air flea market nearby, walked down to the old town, and took a bus back to the train station.
A short walk away was an Internet cafe, where we checked our e-mail and the news of the tour. After that we bought some sandwiches at a local establishment, and headed back to the train station to wait for our train.
Our train was on time, so we reclaimed our luggage and boarded the TGV to Lyon. The trip was smooth and uneventful and arrived roughly on time. Unfortunately, they didn't have power for the laptops on this TGV though.
At Lyon, we picked up a van. We had decided to rent a car to see the l'Alpe d'Huez stage. Because the car reservation place in Albertville closes early, we were unable to rent the car in Albertville. So, we rented a van to take us and our bike boxes to Albertville and avoid any issues with the train.
It took us an hour to collect the van and our bike boxes, which we'd left at the baggage storage place at the train station, and get a quick snack to eat. We finally left the parking lot after 9 PM, just as it was getting dark.
A little over two hours later, we arrived at our hotel, the Hotel Million, in Albertville, which was quite easy to find.. Dick Powell, of the Bicycle Outfitter, was there to greet us and help us with our bike boxes. He explained our options to us in terms of what we did the next day and gave us something to think about. If we were to do l'Alpe d'Huez, we'd have to take our bikes, and drive down really really early to somewhere within 10km of the base of the climb and then ride our bikes up. Phil wanted to do it, but I wasn't enthusiastic because I wanted to get some sleep!
We put our luggage in our room, and discovered a delicious cold snack waiting for us: fromage, salad, and some cold cut meats, and a wonderful tart. I had a little bit before we went down to the garage to put our bikes together. We assembled our bikes quickly and were done by 12:15! Hopefully we put them together correctly, because we'll be descending some pretty gnarly climbs tomorrow. We finally decided to go up the Col de la Madeleine and watch from there due to the logistical simplicity.