July 25: Col du Glandon and Col de la Croix de Fer
Profile of today's TdF stage: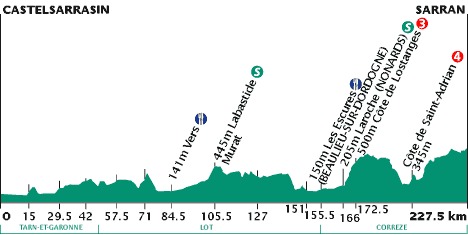 Today's journal entry:
We left the hotel before nine, and descended l'Alpe d'Huez part way before turning through the village of Huez, between turns 4 and 5 on the way down the road. We rode through the village and ended up on a one-lane road that wove its way around the mountain.
The views from here were spectacular! We had to stop many times to take photos. Unbelievable views of the valley below and the Alps all around.
After a fantastic descent into the valley, we rode along a reservoir before starting our 31 km climb up the Col de la Croix de Fer. This climb was quite long, with some very steep parts, and a few places where we had to descend again (I hate that!).
The first part of the climb was in a wooded area. The last part was more barren and unshaded, with grazing land all around.
The climb took us more than a couple of hours, and this was with only stopping once for pictures. There were a number of fit-looking Dutch racer dudes that passed us along the way.
For some reason, I was tired. Perhaps all that walking around the village yesterday wasn't good for my legs? I couldn't get my heart rate up, so we rode pretty slow.
We finally reached a cafe near the top of the climb, and stopped to have some drinks. We were eventually joined by older Ed, John, Stan and Karen, who stopped for lunch.
We finished our drinks and rode a few meters to the top of the Col du Glandon, which was nearby. We rode down it a little bit to look at the big American flag painted on the road, as the Glandon was one of the climbs on the TdF stage that finished on l'Alpe d'Huez.
After taking some pictures, we rode back to finish the climb up the Croix de Fer. Fortunately, it wasn't much farther!
After finishing the climb, we rode down a hairy descent to St. Sorlin d'Arves, where our hotel awaited us. Phil and I were only the third and fourth people to arrive. A lot of folks in our group start late, and many were eating lunch along the way.
We quickly cleaned up, and went to find some grub. We were hungry! Unfortunately, it was after 3, and most places were closed for food. We found a grocery store, bought a baguette, some cheese and some ham (for Phil), and went back to our room to eat sandwiches while watching the tour.
A quick nap after lunch and a long dinner, and our last day of climbing had come to an end.
Tomorrow, we have to hightail it into Albertville, pack our bikes up, and get to Chambery in time for our 6:35 TGV to Paris! It's a long day tomorrow too... around 90km. So we must get up early.