July 13
: Travel from Paris to Villefranche-sur-mer
Today's stage of the TdF (TIOOYK)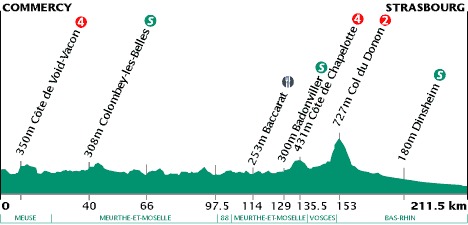 After collecting our baggage at Charles de Gaulle airport, we walked across the street to the bus to the Gare de TGV into Terminal 2 (bus #1). A short bus ride later, and we were at the train station. I validated our railpass at the biglietteria, and we were ready to go.
The trains in Paris are well marked (in contrast to what we found in Italy). We were easily able to figure out where we had to go and where on the platform to wait for our car. (We had first-class reservations on the train... well worth the minor extra charge.) The trains themselves were clearly marked with their destination and car number.
The TGV arrived on time, and we manhandled our luggage on board. Traveling with bike boxes on the train is not fun no matter what country you're doing it in! We found our seats, restashed our luggage, and took off for Lyon Part Dieu.
I dozed and Phil read. We went at great speed and arrived in Lyon at 4 PM. We were unable to find a TV anywhere to stay abreast of the Tour. But tomorrow we'll be able to.
Lyon is a big and busy train station. It wasn't as busy as the train station in Firenze, however, which was surprising given that it's a holiday weekend.
We paid a porter to carry our bike boxes down to the deposito bagaglio area, and left our bikes in Lyon for the weekend. Lightening the load was a big relief!
We got a snack, and Phil checked out the van we'll be renting on Monday to make sure it was big enough for our bike boxes. Just barely!
The weather has gone from somewhat cool and overcast in Paris to hot and muggy in Lyon. Although I dressed lightly, I felt overdressed in this weather!
Most everyone we've encountered speaks some English. No one (yet) that I've found speaks Italian. But some French is coming back to me and I can understand and speak a little. Un petit peu. I've been resisting, fearing that it will mess up my Italian, but I think after today, I will just bite the bullet and relearn enough French to get by on the trip.
At 6, we boarded the train to Nice. The trip was supposed to take 4 hours, but it actually took 6, due to a car or something blocking a section of the tracks. The train ran very slow in many places, sometimes stopping at a random place for a while. Fortunately, the train was air conditioned and it had power, so I was able to write web content, play Myst-III, and otherwise amuse myself on the long ride!
Did I mention how happy we were not to have our bikes with us? Traveling with bikes on a train is quite a chore!
We finally arrived in Nice at around midnight. Nice is a happening place, so the city was still hopping. We didn't know that we were entitled to a free cab ride because our train was so late, but frankly we didn't care. We just wanted to get to our hotel as soon as possible, as we had been traveling since 10 AM yesterday morning! (This is a great way to eliminate jet lag...)
We saw a taxi stand sign and a bunch of people milling around. Not knowing the protocol, we went to the stand and waved for a taxi. The second taxi that came picked us up. We then found that there really was a line, and we'd cut in front of it. Although we offered to give our cab up, the driver said he had to take the first people in line who was us. Oh well! We were quite happy to have made the mistake, even if we did feel a little bad about it.
We got to our hotel at around 12:20, promptly claimed our rooms, and retired for the evening. What a long journey!
Travel tips:
Never travel on Fridays, especially before a holiday weekend. Too bad I didn't think about that before I made our reservations! It actually wasn't so bad today... it was far more crowded in Italy than it is here.
Traveling by train in France is quite simple, especially when compared to Italy. The track number is posted on the departures board at the station (Gare) about half an hour before the train is to arrive. On the platform, there are places where they clearly display where on the platform to wait for specific cars on the train. (This is important if you have a reservation, because you have a specific seat assignment on a specific car.) All the trains are clearly marked with their destinations, and each car is marked with its car number. The trains stop for 5-10 minutes, more than enough time to find your car and hop on board.
While on the train, stops are clearly announced. The seats are very comfortable, and the train is really quiet.
To get from Terminal 1 in CDG to the Gare TGV in Terminal 2, you simply walk across the street and it's clearly marked where to go. At each bus stop there is a map showing you where you are in relation to the map and where the train station is, so it's quite easy to navigate.
Once in the train station you can find an ATM to get money, you can find places to get snacks, and just about anything else you want.
Be sure and validate your ticket before getting on. If you have a railpass, you must validate it at the ticket counter on the first day you use the pass. Henceforth, you just write in the date on your ticket on each day you use the pass. Reservations, which are required for the TGV, are separate, and you must validate your reservation in the machine prior to coming on board the train (or you risk being subject to a large fine).