After all this planning, and months of waiting, we finally left on our journey! We arrived at the airport at 11:30 for our 2:10 PM departure. Check in at the new international airport was a breeze.
We met our friends in line, and had a bite to eat with them while waiting for the plane. In the picture below are Nancy, Mary, Faye (hidden), Walt, Patty, Bryan, and Kurt.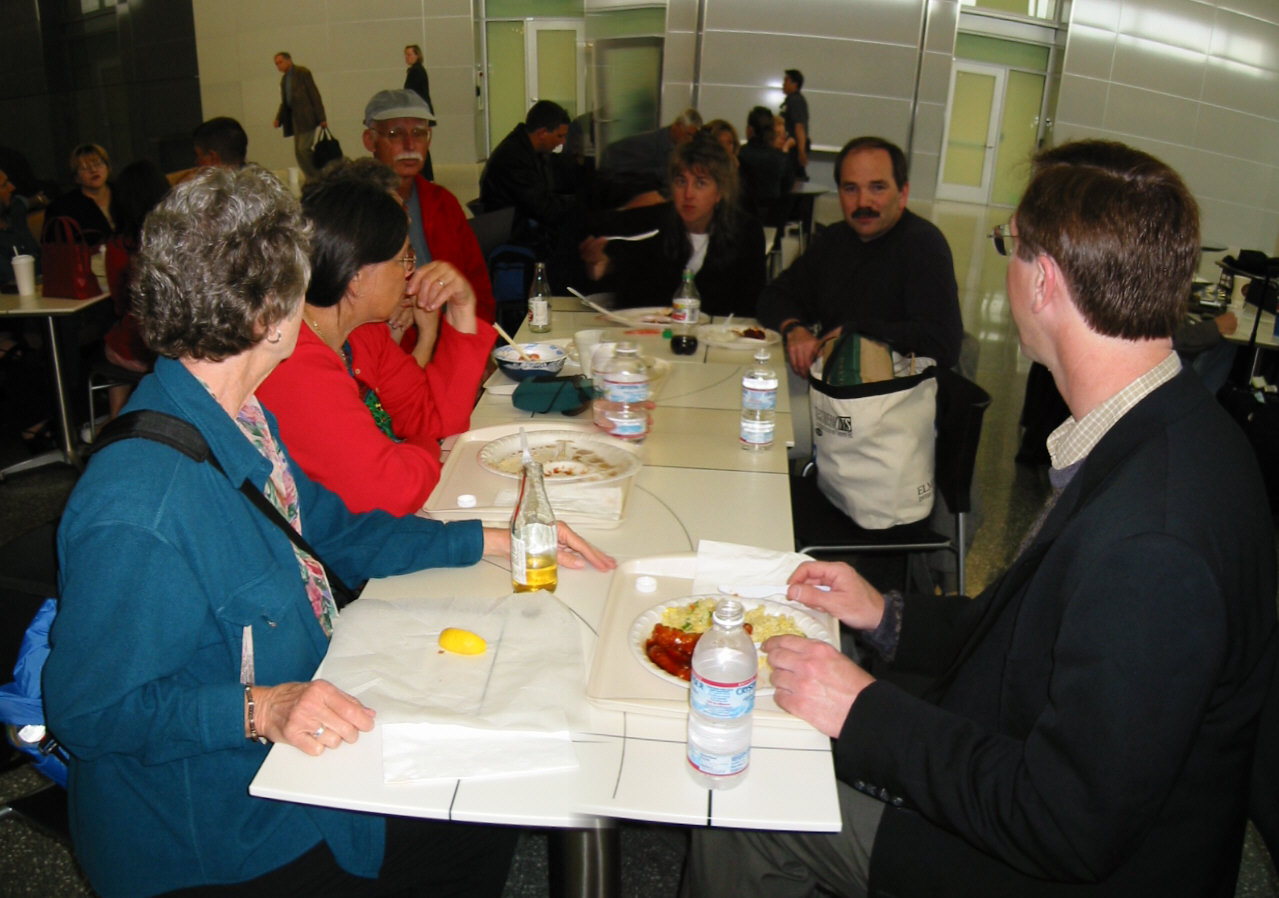 The plane left on time, and we proceeded to our seats. Kurt and I were upstairs in the Lufthansa Boeing 747. As you can see from the picture, Kurt is enjoying the extra leg room!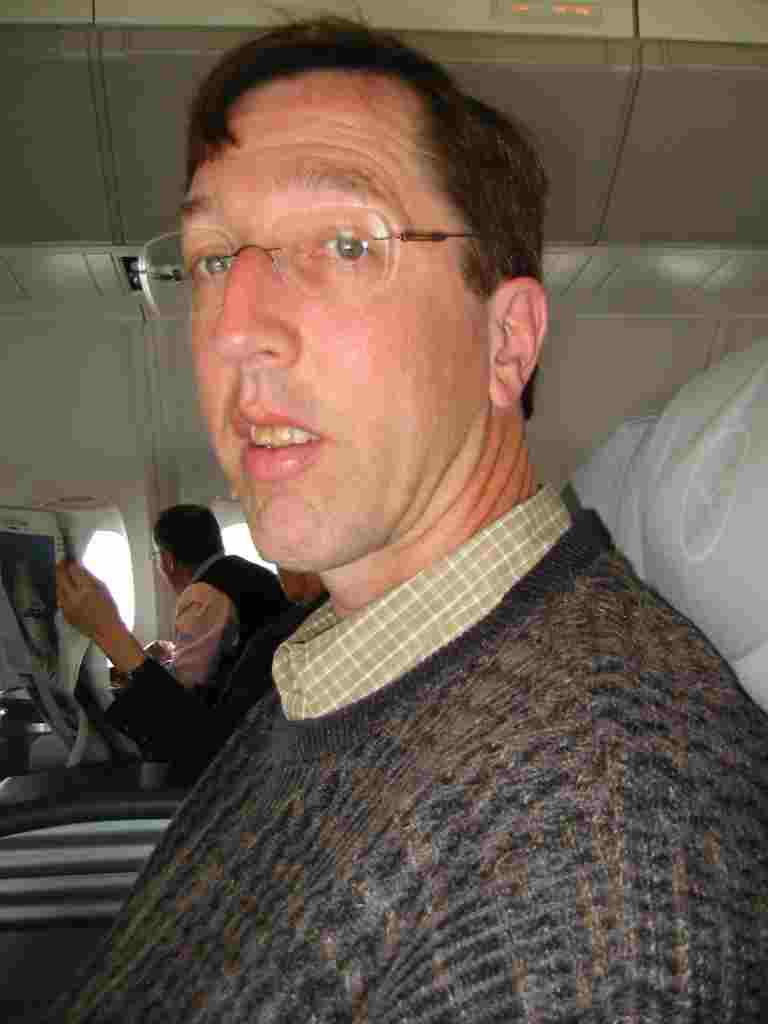 The service was excellent in prima classe. Our flight attendants took great care of us during the journey, keeping our water glasses always full.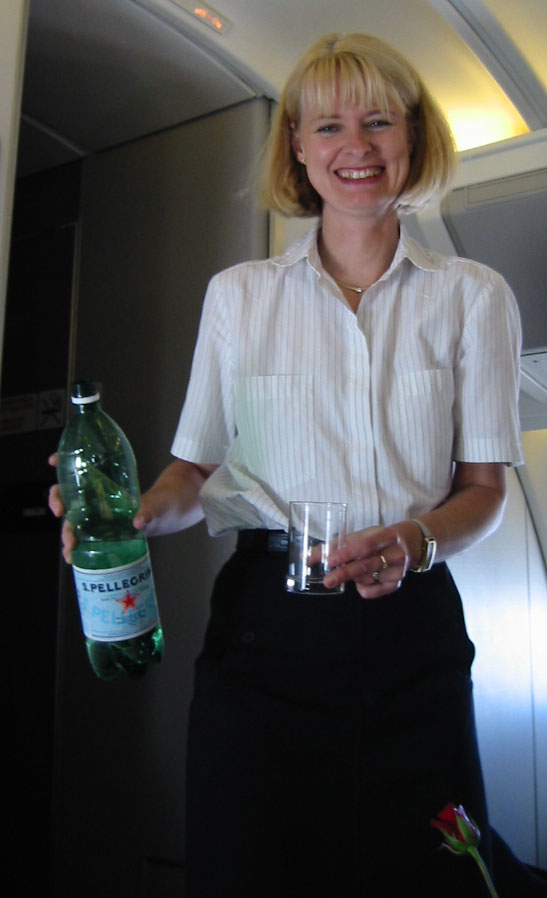 Movies I watched:
Billy Eliot: Good; What Women Want: predictable, but entertaining; Chocolat: Very good
Sleep achieved: 1.5 hours for me, 4.5 hours for Kurt (he has much more self discipline than I).
The plane had a power outlet, which was good, because I brought my crummy battery that has no life left in it. But I didn't get much work done on the web site, because I was too busy watching movies!
We arrived in Munich on schedule, and were surprisingly awake. We met Bryan, Patty, Faye, Mary, Walt and Nancy at the baggage claim and picked up our oversized luggage.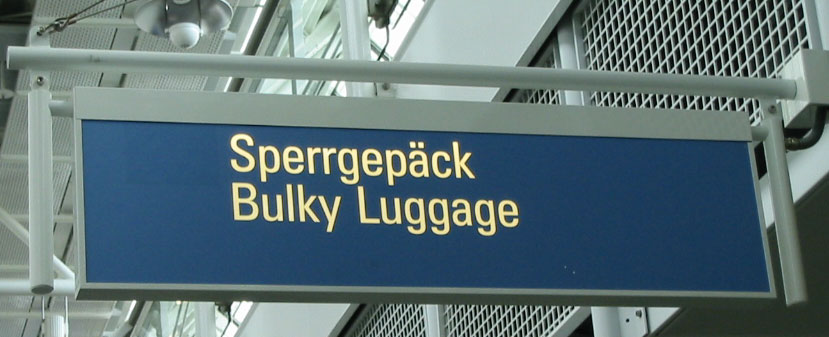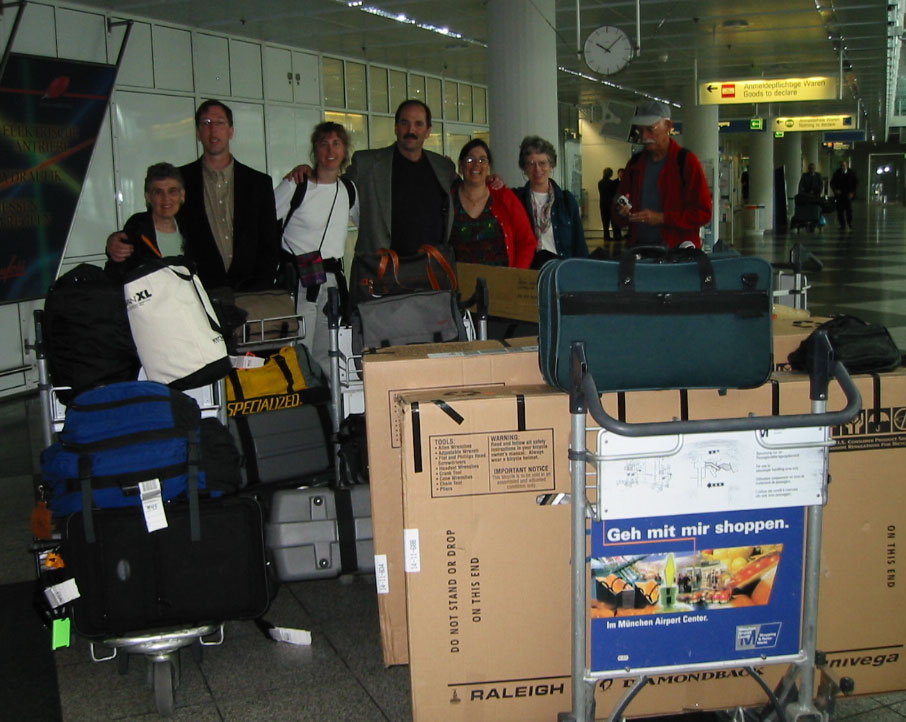 From there, we proceeded via train to our hotel in Munich, the Forum Hotel. Because there were 8 of us, we were able to purchase two group day passes for the train and subway system which were good for an entire day. (Unfortunately, we discovered this after we bought several tickets to get into the center of Munich and back. We were still able to take advantage of it, however, since we had to make a trip to the Munich Centrale train station later in the evening.)
The hotel had designated a large room where we were to put together and store our bikes. So, shortly after arriving at the hotel, getting our rooms, and putting our stuff in our rooms, we went down to the bike assembly room and reassembled our bikes. I will say that it was a lot easier to put them back together than to take them apart! We reassembled our bike boxes for shipment the next day.
After putting our bikes together, we went with Faye, Mary, Walt and Nancy to the Munich city center. The center has a very pretty pedestrian arcade/piazza which we were able to walk around for a short while. (Check back later... I'll be posting some pictures from this.)
We were also told by others that Munich is a great place to bike around, since it has a network of bike trails separated from the cars. But as we had only til 5:30 to play, we were unable to explore on bike... next time!
We returned to the hotel by 5:30 to get our briefing by the ride leaders on the events for the next day. We ate dinner with the group, met some nice people, and retired to our rooms to try and stay awake as long as we could. We stayed awake until 10:00 or so, and that ended our day!