May 16: Malles to Austria and back
Today we were to ride to Austria and back. This was retracing our steps from the bus ride. I thought it would be pretty easy, but I was wrong... 30 miles with approximately 4000 ft of climbing, and quite steep climbing it was!
Note...today I try to write most of the trip reports in both English and Italian, since we are predominantly in Italy from here on in. Until I can figure out how to properly do a bilingual site, I will intersperse narrative in both languages. (Those proficient in Italian, please feel free to send me corrections if I have made grammatical errors... you know who you are!) If not all is translated when you read this, please check back later... it takes me some time to do it!
Below is the view from our hotel-room window. This picture doesn't do it justice...

We met for breakfast as usual at 7:30, finished eating, got dressed, and left the hotel around 9, starting out with Bryan, Patty, Faye, Mary, Nancy and Walt, and a few others. As we rode through town, we were surprised at the steepness of the roads, and soon Bryan, Patty, Kurt and myself went on ahead of the others.
Abbiamo aspettato per la colazione alle 7 e mezzo, abbiamo mangiato, ci siamo vestuti, e siamo usciti verso le nove. Abbiamo cominciato con Bryan, Patty, Faye, Mary, Nancy e Walt, e qualcune persone. Mentre guidavamo le sue biciclette a Malles, la difficolta' della strada ci sorprendavamo. Tra poco, Bryan, Patty, Kurt ed io andavamo davanti agli altri.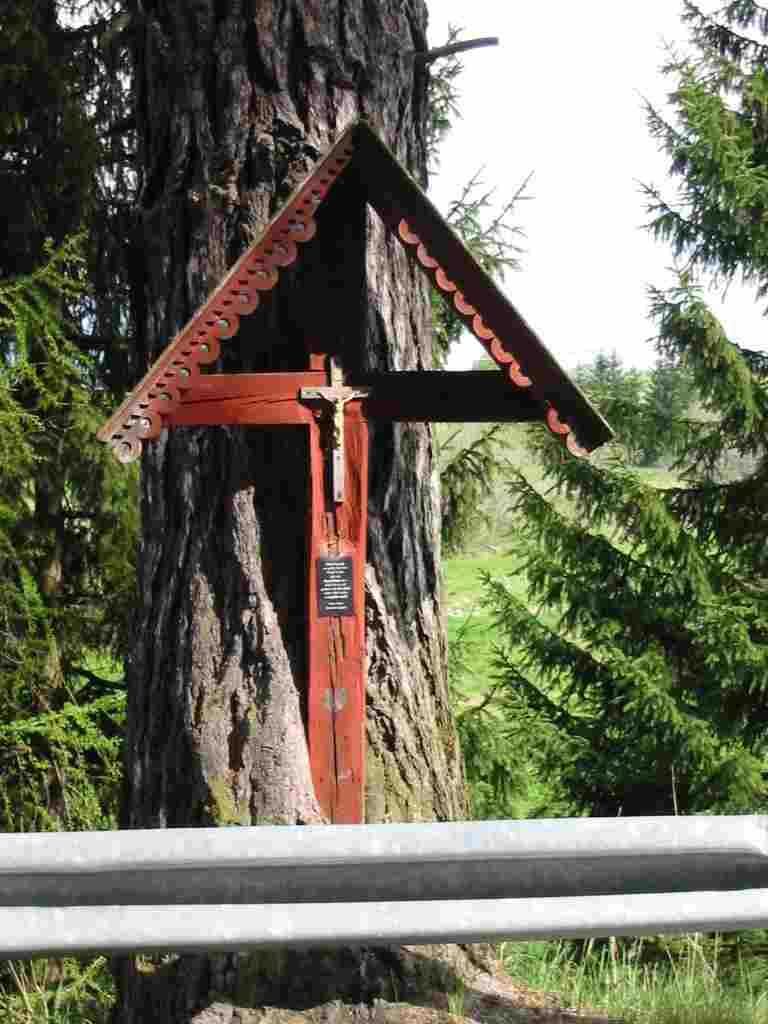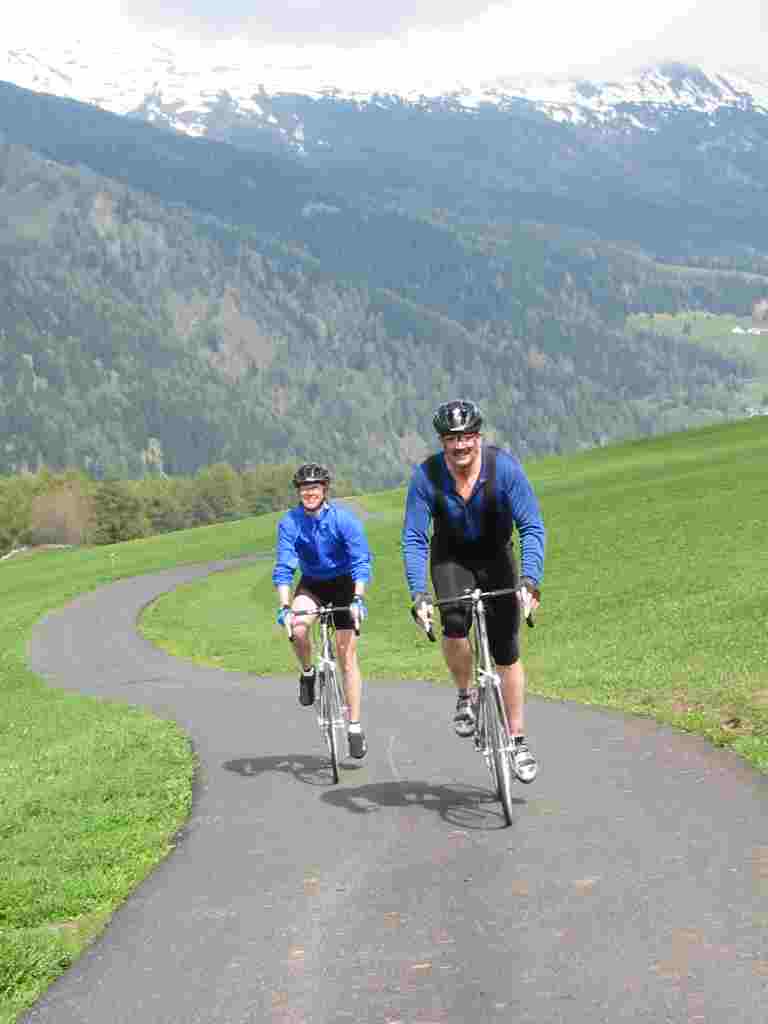 We continued climbing, past vast open fields and small farmhouses, through small villages.

When we reached the town of San Valentin, we stopped to find an outdoor cafe where we could have a cup of coffee while waiting for the others. Patty stopped an older man to ask, but he spoke no English. So I went over to ask in Italian, but he spoke only German. So Kurt came over and asked him in German. He explained that there were only two cafes around. We went towards the second cafe he mentioned, to see if it would have outdoor seating, but it didn't appear to.
Continuavamo a salire, passavamo dei campi grandi e delle fattorie, stavamo viaggiati attraverso i paesi piccoli. Quando abbiamo visitato il paese di San Valentin, ci siamo fermata a cercare per un cafe all'aria aperta, mentre aspettavamo per l'altri. Patty ha chiesta un uomo vecchio, ma lui non parlava inglese. Cosi' Kurt l'ha chiesto in tedesche. Lui ha risponduto che ci erano solo due cafe in quel paese. Siamo andati verso il secondo cafe, ma non aveva le sedie all'aria aperta.
I stopped another man and asked him in Italian where such a cafe might be. He expressed incredulity at wanting to sit outside, since it was so cold, but directed us to a cafe a couple of kilometers down the road, back the way we came. Needless to say, I was quite ecstatic having completed my first real conversation since entering the country! (We were able to speak a little bit of Italian to the cameriere at dinner, but it didn't amount to much.) Ultimately, we decided to continue on to Austria and have our reward then.
Ho fermata un altr'uomo, e lo ho chiesta in italiano se c'erano alcune cafe all'aria aperta. Mi ha risponduto: "Ma fa troppo freddo!" Dopo ho detto a lui che ci piace molto il raffredore, ci ha dato le indicazioni a un cafe all'aria aperta. Ma, abbiamo deciduto a continuare in Austria, e mangiare e bere piu' tardi.
We crossed the main road, and circled around Lago di Resia on a small road with little traffic. Again, more climbing above the lake, and then descending down to Resia, the town at the northern tip of the lake. A short while later, we were in Austria!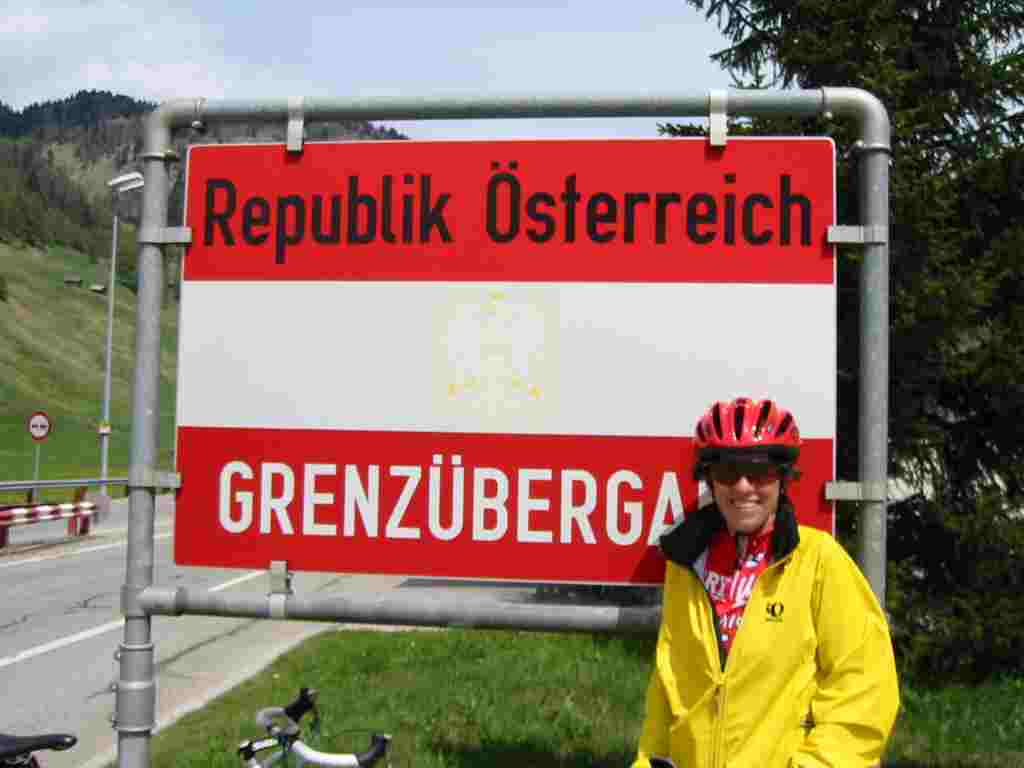 We quickly retreated back to Italy, and stopped at a nearby cafe for a bite and a cup of coffee. Our cameriera spoke German, Italian, English and Latin (her least favorite language), so it was easy for us to get by. Those who knew German, ordered in German, and of course I ordered in Italian. We had a small repast and began our journey back to the hotel.
We retraced our steps, the same way we came. When we got to the intersection that contained the road to Planol, a small village set high in the hill, we decided to climb up the road to see the town.

We were rewarded with a spectacular vista of the Alps and the plains below.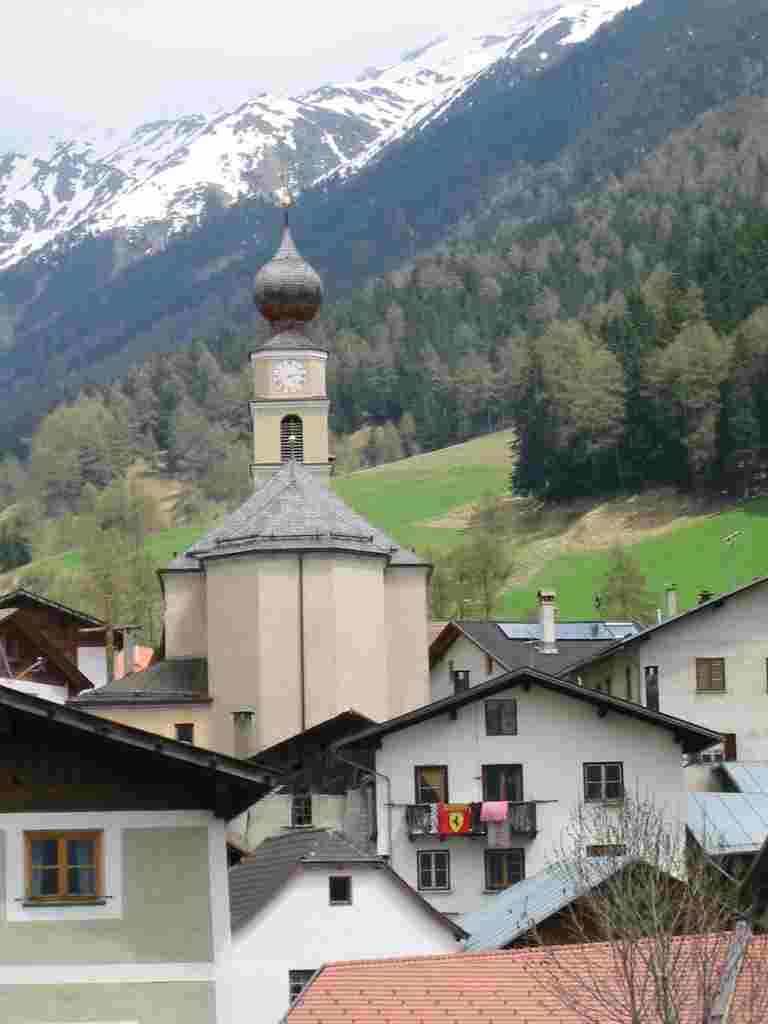 Our descent was made with great care, as the consequences of falling would be dire -- the dropoff on the narrow road to the valley below was several hundred feet at certain places.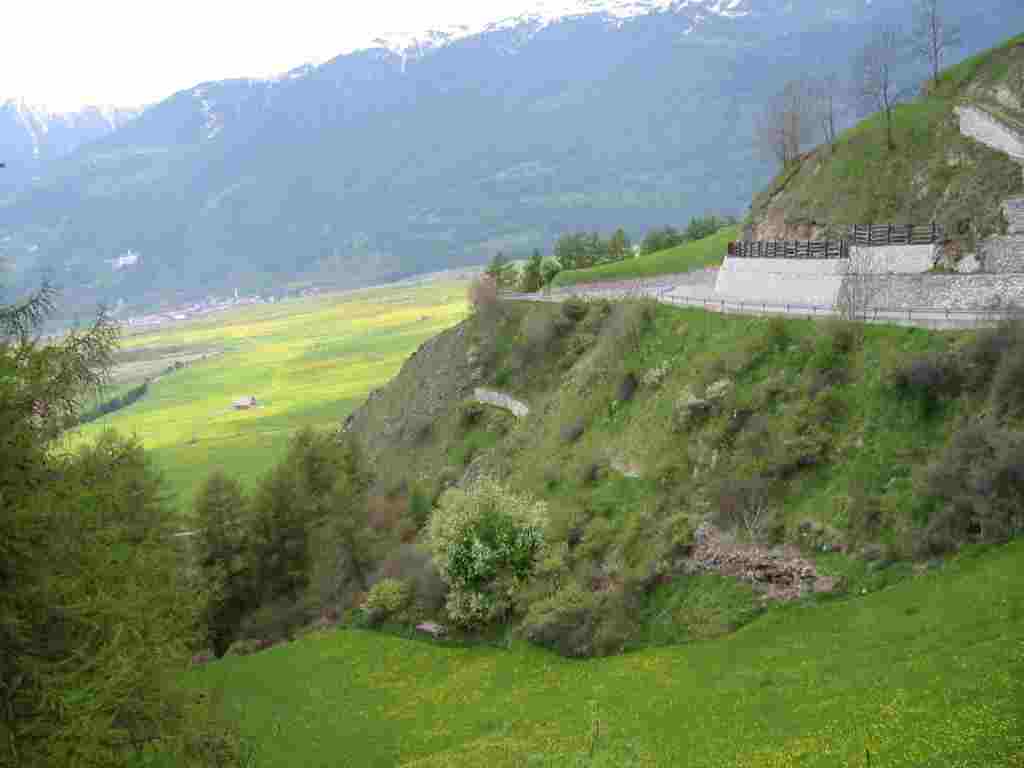 We returned back to the hotel, had our usual preride meeting and dinner, and went back to our room to watch While You Were Sleeping, dubbed in Italian.
We are quite near the Stelvio, a famous climb in the Giro d'Italia. Tomorrow we will pass quite near it, and Kurt, myself and a few others will attempt to climb it as far as we can. We are told it is closed due to snow. Stay tuned!